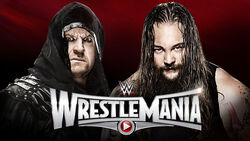 Bray Wyatt has been calling out The Undertaker for weeks, promising that he will take The Deadman's soul on The Grandest Stage of Them All. The New Face of Fear will get his wish, as The Phenom has accepted his challenge for Sunday, March 29 in what may be, perhaps, the most frightening showdown in WrestleMania history.
For the better part of a month, Wyatt had been broadcasting mystic missives, leaving the WWE Universe to wonder to whom (or what) he was speaking. At WWE Fastlane, Wyatt made his message a little clearer. Using The Undertaker's iconic imagery for his own twisted purposes, Wyatt had druids drag him to the ring in a casket, from which he emerged with a devilish smile to issue the challenge. Claiming The Undertaker had become mortal since his Streak came to an end at last year's Show of Shows, Wyatt said he was no longer afraid of The Phenom, and that it was his mission to send The Deadman "home."
However, The Undertaker had not been seen or heard from since Brock Lesnar pinned him in one of the most shocking moments in sports-entertainment history, leaving many to wonder if Wyatt's challenge would go unanswered. The New Face of Fear continued to raise the stakes, setting a casket on fire during Monday Night Raw in hopes of drawing The Deadman out, only to receive radio silence in return. Wyatt stunned the WWE Universe when he revealed that he had come into possession of The Undertaker's urn, threatening to unleash its mystic power on the WWE Universe.
On the March 9 edition of Raw, Wyatt opened the urn, maniacally laughing as he revealed that it was empty. Yet before Wyatt's dark sermon could continue, thunder and lightning boomed through the arena as The Undertaker finally made his presence felt. Declaring that Wyatt will rest in peace, The Phenom accepted Wyatt's challenge and sent a bolt of lightning from the heavens, striking Wyatt's prized rocking chair and setting it ablaze. Wyatt's reaction was unusual, to say the least. There was no fear, trepidation or even anger from Wyatt; only tears of joy streaming down The New Face of Fear.
What will happen when The Undertaker stares into The New Face of Fear? Can he redeem himself following the most crushing loss of his career, or will Bray Wyatt send The Deadman to his final resting place? The WWE Universe will find out at WrestleMania 31 on Sunday, March 29, live on WWE Network.
See also
Community content is available under
CC-BY-SA
unless otherwise noted.