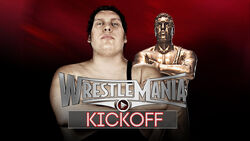 The legacy of WWE Hall of Famer Andre the Giant will loom large at WrestleMania 31, as a legion of Superstars will enter Levi's® Stadium with the goal of winning the 2nd Annual Andre the Giant Memorial Battle Royal.
The prestigious over-the-top-rope Battle Royal — a tribute to the iconic "Eighth Wonder of the World," who was also known as "The King of the Battle Royal" — premiered at last year's WrestleMania 30. There, 31 Superstars duked it out for the right to win a gigantic trophy created in Andre's likeness. The wild brawl culminated when Cesaro unforgettably bodyslammed the 425-pound Big Show over the top and to the floor to become the inaugural victor.
So far, the following competitors have added their names to this year's Andre the Giant Battle Royal lineup:
Which other Superstars will join the fray as the WWE Universe races down The Road to WrestleMania? And once the match field is final, which Superstar will find the strength and intestinal fortitude to outlast the pack of grapplers, brawlers and juggernauts at The Show of Shows?
Find out when the 2nd Annual Andre the Giant Memorial Battle Royal takes place at WrestleMania 31, which airs live on WWE Network Sunday, March 29!
See also