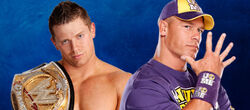 For John Cena, the Road to WrestleMania has become a familiar path, one he's ridden many times with great success. For WWE Champion The Miz, however, the Road to WrestleMania is a road less traveled. And perhaps that will make all the difference when the two meet in Atlanta at their WWE Title Match.
Although The Miz would argue he's paid his dues in WWE and deserves his celebrated status, the fact is, he's employed some underhanded tactics during his ascent. He cashed in his Money in the Bank contract on a battered Randy Orton to seize the championship. And during a title defense against Jerry "The King" Lawler, The Awesome One would likely have lost were it not for interference from sycophant Michael Cole. Even though his methods remain questionable, there's no arguing that Miz continues finding ways to retain WWE's most prized possession.
For his part, John Cena enjoys the experience that comes with having earned the WWE Championship an impressive seven times. In order to main-event WrestleMania, the Cenation Commander-in-Chief had to plow through five formidable Superstars inside the Elimination Chamber – Randy Orton, John Morrison, R-Truth, King Sheamus and CM Punk – before pivoting to his current target: WWE Champion The Miz.
When these two Superstars enter the ring on April 3, the contest will be between a young, resourceful and headstrong champion willing to do just about anything to stay on top and a strong, experienced veteran with uncanny determination and a storied list of accomplishments. Can the ever-impressive Cena notch his eighth WWE Championship? Or will the wily Miz somehow find a way – yet again – to remain king of the mountain?
To catch all the action, watch WrestleMania live only on pay-per-view or online, April 3, 8/7 CT.
See also
Community content is available under
CC-BY-SA
unless otherwise noted.