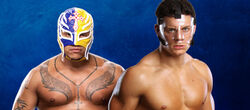 At WrestleMania XXVII, the inner-turmoil that consumes Cody Rhodes will turn outward, targeting the Superstar he blames for all his recent misfortunes – Rey Mysterio.
In the final moments of a fast-paced match on the Jan. 21 edition of SmackDown, Rey Mysterio delivered to 619 to his handsome adversary. Mysterio's leg brace – which Rhodes himself had exposed earlier on – struck his opponent's nose with tremendous force, causing it to break. Though injuries are always a potential hazard in the squared-circle, the results would be catastrophic for the Superstar who prided himself on his extraordinary appearance.
Weeks later, Rhodes would return to SmackDown a completely different Superstar than before the injury. Replacing the sheer confidence that once accompanied his "dashing" persona, Rhodes came forth as a bitter shell of a man; drowning in self-conscious contempt; unable to stand the mere feeling of the WWE Universe staring at him. And, in his warped mind, the sole reason for all that he was experiencing was The Master of the 619.
On the Feb. 25 edition of SmackDown, Rhodes and his WWE Hall of Famer father Dusty Rhodes shocked the WWE Universe when they executed a sinister plan to gain revenge on Mysterio. Luring the masked Superstar into a false sense of security, Cody unleashed a brutal assault on his adversary and ripped off his mask.
Rhodes went on to challenge Mysterio to a fateful match at the Show of Shows one week later, promising to rip his foe's mask off again and expose him to the WWE Universe.
What lengths will the darkly-obsessed Cody Rhodes go to quell his inner-demons at the expense of Rey Mysterio? Find out at WrestleMania, Sunday Apr. 3 at 7/4 PT, only on pay-per-view.
See also
Community content is available under
CC-BY-SA
unless otherwise noted.