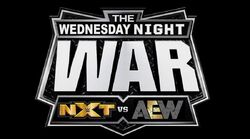 The Wednesday Night Wars was a period of mainstream televised American professional wrestling that began on October 2, 2019 when All Elite Wrestling (AEW)'s Dynamite debuted on TNT opposite WWE's NXT on USA Network in a battle for Nielsen Ratings each week.
This is the first direct competition between two major promotions since Impact Wrestling, then known as Total Nonstop Action Wrestling (TNA), briefly moved their flagship series, Impact!, to Monday nights opposite WWE Raw in 2010, but failed to ever win, and over 20 years following the original Monday Night Wars that lasted from 1995 to 2001.
History
Before the war
2010–2018
Since the end of the Monday Night Wars, WWE has had a sharp decline in ratings that was caused by the collapse of WCW. One of the main causes for this was the promotion's 2008 shift to a family-friendly approach in which all of its programs received a rating of TV-PG. In an effort to increase the company's revenue, WWE began to hold many pay-per-views, such as the Royal Rumble and WrestleMania, inside stadiums that host either MLB or NFL franchises. WrestleMania 32, which was held on April 3, 2016, set records for the highest attendance (at 101,763) and the largest amount of revenue (at $17.3 million) for a professional wrestling event in history. In July of that year, WWE reinstated the brand extension after it announced plans to move SmackDown to the USA Network (the broadcaster of Raw) and broadcast it live on Tuesday nights; the program had been taped on Tuesday and aired on either Thursday or Friday for its first seventeen years. The 2016 WWE draft, which was held on July 19, saw many wrestlers being assigned to Raw and SmackDown while accepting wrestlers from NXT onto either brand. WWE Champion Jon Moxley (who was known as Dean Ambrose at the time) was drafted to SmackDown during the draft and successfully retained the title at Battleground, which resulted in the creation of the WWE Universal Championship for the Raw brand. Since that time, WWE had added two other brands: 205 Live (featuring cruiserweight wrestlers) and NXT UK (a United Kingdom-based NXT promotion).
Meanwhile, many other wrestling promotions made numerous attempts to compete with WWE, but most of them suffered a lack of interest. From January to May 2010, TNA decided to program Impact! on Monday nights opposite Raw, but suffered from extremely low ratings in its timeslot due to poor scheduling. Ring of Honor Wrestling (ROH) premiered in 2009 on HDNet to low ratings and was moved to syndication on television stations owned by Sinclair Broadcast Group in September 2011.
2018–2019: Television contracts signed
On June 26, 2018, WWE announced that it would move SmackDown to Fox once its existing television deal with the USA Network expired in late September of the following year. Fox had been trying to bolster its sports and reality programming following its acquisition by Fox Corporation, which was expected to become the owner of the network after The Walt Disney Company announced its acquisition of 21st Century Fox in December 2017.
On January 10, 2018, Cody and The Young Bucks (who are members of the stable known as The Elite) announced an independent event known as ALL IN, which was scheduled for September 1 of that year at the Sears Centre in Hoffman Estates, Illinois. Tickets for the event went on sale on May 13, and sold out in less than an hour. The event was attended by 11,263 people, making it the first event not held by WWE or World Championship Wrestling (WCW) to sell 10,000 tickets or more since 1993. Four months after All In, Cody and the Young Bucks left Ring of Honor and announced plans to start a new wrestling promotion. The promotion, which would become known as All Elite Wrestling (AEW), began operations on January 1, 2019, and announced that its first event, Double or Nothing, would be held on May 25 of that year. In the months leading up to the event, AEW signed deals with many wrestlers from WWE and ROH, including Adam Page, Chris Jericho, Joey Janela, Jon Moxley, Pac, Jake Hager, Sammy Guevara, and the tag team SoCal Uncensored (Christopher Daniels, Scorpio Sky, and Frankie Kazarian).
Ten days before Double or Nothing was held, AEW reached a deal with WarnerMedia to broadcast a weekly show on TNT, which would later become known as AEW Dynamite. On July 24, 2019, AEW announced that Dynamite would premiere on Wednesday, October 2 and would be broadcast live every week, marking the return of professional wrestling to WarnerMedia for the first time since TNT broadcast the final episode of WCW's Monday Nitro on March 26, 2001.
In August 2019, WWE announced that it was moving WWE NXT, WWE Network's Wednesday night program showcasing its namesake brand, to USA Network (marking the show's first broadcast on the network since December 20, 2017) and expanding the program to a live, two-hour broadcast. Critics felt that the move was an attempt to counterprogram AEW, which was seen as the first major promotion to compete financially with WWE since the closure of WCW in 2001.
Under its new format, NXT premiered on USA on September 18, two weeks before AEW's broadcast debut on TNT. Due to scheduling overlap with the final episodes of USA Network series Suits, only the first hour of NXT was scheduled to be broadcast on USA for its first two weeks while the second hour was expected to air on WWE Network.
The war begins
2019–February 2020: NXT and AEW begin to battle
At AEW ALL OUT on August 31, 2019, AEW announced that three matches would take place to determine the qualifiers for the championship matches that were scheduled to be held during the first month of Dynamite. Nyla Rose and Riho won their matches to qualify for the inaugural AEW Women's World Championship match, while The Dark Order defeated Best Friends to earn a first-round bye in the tournament for the AEW World Tag Team Championship. In the main event of the pay-per-view, Chris Jericho defeated Adam Page to become the inaugural AEW World Champion.
In the two weeks leading up to the head to head competition, NXT drew 1.179 and 1.006 million viewers respectively. On October 2, 2019, Dynamite debuted on TNT, which averaged 1.409 million viewers. NXT would make their full two-hour debut on USA Network on the same night, which averaged 891,000 viewers. The first episode of Dynamite saw Riho defeat Nyla Rose to win the women's championship and featured a six-man tag team match where Chris Jericho, Santana, and Ortiz (who would comprise The Inner Circle) defeat The Elite; the episode of NXT airing opposite it saw The Undisputed Era defeat Street Profits to retain the NXT Tag Team Championship. Dynamite would beat NXT in the ratings among both viewers in the 18–49 range and total viewers for its first seven episodes. After the first four weeks, NXT began to gain ground from Dynamite when WWE announced that NXT wrestlers would compete at Survivor Series. Competitors from the NXT brand would go on to win three of the five triple-threat matches at the pay-per-view, which saw NXT Women's Champion Shayna Baszler defeat Raw Women's Champion Becky Lynch and SmackDown Women's Champion Bayley in the main event. These developments caused NXT to place first in the ratings for three out of the five remaining weeks of 2019, which culminated in a match where Rhea Ripley defeated Shayna Baszler to win the women's championship on the December 18 episode of NXT. A few weeks earlier, Kris Statlander began her pursuit of the AEW Women's Championship by securing several victories against other competitors; she would defeat Britt Baker on the December 18 of Dynamite to become the number-one contender for the championship. Three weeks later, Brandi Rhodes, Awesome Kong, Mel, and Luther interfered in the championship match between Riho and Statlander; this caused Riho to retain the title.
On January 1, 2020, Dynamite regained the ratings lead from NXT as it was beginning to build up for AEW Revolution. Jon Moxley, who had defeated Kenny Omega at AEW Full Gear, had begun his pursuit for the AEW World Championship a few weeks earlier; he would defeat Pac on the show's January 22 episode to become the number-one contender to the title. Meanwhile, MJF became involved in a rivalry with Cody that began at Full Gear. Cody requested a match against MJF, but he had to agree to three conditions: he could not touch MJF until the match, he would have to face Wardlow in a steel cage match, and he would have to take ten lashes with a leather belt on live TV. Cody would defeat Wardlow on February 19 to qualify for the match; he would lose his match to MJF ten days later.
After Charlotte Flair won the women's Royal Rumble match at Royal Rumble on January 26, 2020, she appeared on both Raw and SmackDown and did not make an initial decision on her challenger at WrestleMania 36. Flair held off on making her decision until after Ripley had defended the title at NXT TakeOver: Portland on February 16. At the pay-per-view, Charlotte attacked Rhea and decided to challenge her for the NXT Women's Championship.
At AEW Revolution on February 29, Moxley defeated Jericho to become the AEW World Champion, while Nyla Rose successfully defended the AEW Women's Championship against Kris Statlander. On the March 4 episode of Dynamite, Chris Jericho and Sammy Guevara defeated Moxley in a 2-on-1 handicap match after The Inner Circle attacked Darby Allin, while Pac defeated Chuck Taylor in a singles match and was joined by the Lucha Brothers in attacking Taylor, Trent and Orange Cassidy after the match.
The fate of what would happen to WWE and AEW programs after the week of March 2 became increasingly grim after the 2019–20 coronavirus pandemic began to impact the United States. After Elimination Chamber was held on March 8, several major sporting leagues around the world began to suspend operations in an attempt to keep all players and fans safe and healthy during the course of the pandemic. Both WWE and AEW announced contingency plans to continue operations while the pandemic is in effect. Although WWE had no plans to cancel or postpone WrestlerMania 36 (which was relocated to the WWE Performance Center in Orlando, Florida on March 16), a meeting was held by Tampa officials on March 12 to determine the fate of the event; it was decided that WrestleMania 36 would still proceed as planned, barring that the situation does not worsen in a week's time. That same day, WWE announced that future episodes of their television programs will be filmed at the WWE Performance Center without an audience until further notice. Meanwhile, AEW announced that it would relocate episodes of Dynamite that were originally scheduled to be held in cities that were affected by bans on public gatherings to secure locations.
The Wednesday night wars ended on March 30, 2021 when WWE announced NXT was moving to Tuesday nights starting April 13th.
Comparison of viewers between NXT and Dynamite
Date
NXT
Dynamite
2019-10-02
891,000
1,409,000
2019-10-09
790,000
1,140,000
2019-10-16
712,000
1,014,000
2019-10-23
698,000
963,000
2019-10-30
580,000
759,000
2019-11-06
813,000
822,000
2019-11-13
750,000
957,000
2019-11-20
916,000
893,000
2019-11-27
810,000
663,000
2019-12-04
845,000
851,000
2019-12-11
778,000
778,000
2019-12-18
795,000
683,000
2019-12-25
831,000
Not aired
2020-01-01
548,000
967,000
2020-01-08
721,000
947,000
2020-01-15
700,000
940,000
2020-01-22
769,000
871,000
2020-01-29
712,000
828,000
2020-02-05
770,000
928,000
2020-02-12
757,000
817,000
2020-02-19
794,000
893,000
2020-02-26
717,000
865,000
2020-03-04
718,000
906,000
2020-03-11
697,000
766,000
2020-03-18
542,000
932,000
2020-03-25
669,000
819,000
2020-04-01
590,000
685,000
2020-04-08
693,000
692,000
2020-04-15
692,000
683,000
Overall score
Dynamite: 22
NXT: 4
Tie: 1
Ratings unavailable or program not aired: 1
Community content is available under
CC-BY-SA
unless otherwise noted.