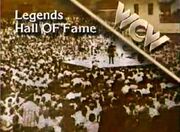 The WCW Hall of Fame was established in 1993 to honour some of the wrestling greats of the past (most of them appearing in the NWA and Jim Crockett Promotions before WCW existed). The ceremonies were held at the "Legends Reunion" at the Slamboree PPV each May. The Hall of Fame was dropped with no announcement after 1995.
Each inductee would have somebody else induct them and they each received a plaque. In 1995, legendary wrestling announcer Gordon Solie objected to the Hall of Fame because they were going to induct Angelo Poffo as a favor to his son, Randy Savage. Solie objected because Poffo was not a particularly notable wrestler and he was a purist at heart. They went ahead with the induction anyway and ended up surprising Solie with his own induction. Solie acted like he was honored but he was still not happy about it and left WCW shortly after the PPV.
Inductees
Trivia
Image gallery
See also
External links
Puroresu Site: http://www.wrestling-titles.com/wcw/hof.html
Community content is available under
CC-BY-SA
unless otherwise noted.