Vendetta Pro Wrestling TV (also Vendetta Pro TV or simply Vendetta Pro Wrestling) is a professional wrestling program that debuted on July 4, 2012. The program broadcasts on Comcast 25 in the Santa Maria/Lompoc area.
Originally, new episodes were to air on a bi-weekly schedule, first appearing on Wednesday nights. However, the schedule now calls for new episodes to be released every three weeks. Santa Maria residents can see the program three times a week: Wednesdays at 11pm, Thursday at 7pm, and Fridays at 5pm. Meanwhile, the program airs five times a week for Lompoc residents: 11 pm on Tuesdays, Wednesdays, Fridays and Saturdays, and on Thursdays at 7pm. Plans are in the works to debut the show on Charter cable in the San Luis Obispo area as well. Once a new episode has debuted on television, it will then appear on Vendetta Pro's YouTube Channel and other online sources shortly thereafter, where it is then made available to audiences worldwide.
Format
Vendetta Pro TV features matches which have previously been recorded and released on DVD, as well as promos & vignettes which have been featured on the Vendetta Pro YouTube channel or which took place at the live event where the footage was recorded.
Episodes generally feature two matches which are often taken from different events, although on occasion, matches from the same event may be shown in the order in which they took place. An example of this took place on the first episode, which featured a match from Vendetta Pro's '
Terror Rising 2011
' event for the Vendetta Pro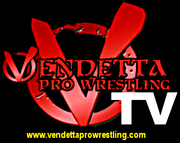 Heavyweight title in which
Shannon Ballard
defended his title against
Chavo Guerrero, Jr.
Following that match, an improptu six-man tag-team match was made, and that match was also aired on the same episode.
Rather than focusing on storylines, the program highlights the kind of action fans can expect to see at Vendetta Pro Wrestling live events, though this approach may change in the future.
Matches are narrated by Joseph Duncan, with occasional help from J. Lloyd Reed.
The Television Program's Executive Producer is Christopher "TAK" Clark.
The theme music is "Rebel Yell" by Drowning Pool.
See also
External links