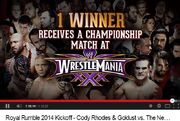 Archives: /2011, /2012, /2013, /2014
Body slam me. +Yc 13:58, 14 December 2006 (UTC)
2016
RE:Golden or Gold and
Format
Is that what the month-long nonsense/gibberish ban is about? I did intend to format it later but was just doing basic stats for Randy Reign after hearing about his dark match in the midst of watching Raw, but you beat me to it. talk2ty 00:42, April 5, 2016 (UTC)
Thinking
For the last time, I don't know how many times we have to stress this. Think about things before you request them. We don't need pages for one off groups or alliances. We don't need disambiguation pages for every thing. Do other pages like the pages you request exist? If so, that's probably a good standard for having them on here if not then they probably aren't wanted or desired. We have tried to be as patient with you as we can and each time you come back we have the same issues. Both me and Dean are at our last wit's end with having the patience to even give you more opportunities to edit. There's a million actual projects you we actual need done and that could use your attention. If you need to know any just ask us about those. - Wagnike2 (talk) 11:10, August 23, 2016 (UTC)
2017
stopping in
Was gonna post in forum...
Before making a page like heels to the face based on announcer description of what Dalton's Boys did july 7 on RoH, was wondering if we had this move under another name.
It was a 2 on 1 move, each used both hands to grab a different wrist of target. They each lifted a heel of one leg under his chin then fell backward onto the mat with other leg bending to control the fall. Enemy chin fell onto heels.
I know I saw this move before with 1 guy doing it but i forget who or what they called it.
Couldnt due to this year block. Says for removing content. Do not understand what edit i removed stuff. Would mod link a ?diff= number to clarify?
All I recall doing in May was updating the ROH articles with the current champions because titles had just change hands and it still listed previous ones. talk2ty 22:46, July 11, 2017 (UTC)
If it hasnt been done i am hoping to give William Weeks a page. He has been on Impact http://www.pwtorch.com/site/2017/05/05/impact-hits-misses-edwards-vs-sydal-william-weeks-matt-morgan-magnus-gfw-sad-sonjay-mathews/ and had a return match for stolen x div title. Intro says he has been to Japan/Australia/Germany/Canada and has win titles all over the place, per Trevor Lee. talk2ty 19:40, July 15, 2017 (UTC)
GFW World Tag Team Championship and TNA World Tag Team Championship appear to be unified by two members of LAX, Santana and Ortiz. Diamante is female member. On main scene rivalry with Patrone and Lashley on Impact. talk2ty 20:42, July 15, 2017 (UTC)
July 27, 2017 iMPACT! results saw a backstage interview with Richard Justice. Excited about this guy. talk2ty 01:57, July 29, 2017 (UTC)
2018
March
The 18 March 2018 ROH match (first round in the Women of Honor tournament to determine a WOH champ) between HZK and Mayu Iwatani featured what the announcers called body scissors but I would probably call it rolling body scissors because she used the legs-round-torso grapple to spin her over.
Before match began, announcer mention Iwatani has held "all five" Stardom championships, including "the very pretigious World Of Stardom Championship". They say "the twenty year old HZK".
Side headlock takeover into a headscissors... a lot of good moves being announced which I'd like to redirect to move lists if possible. "Great Snap Mare takeover" and "big double axe handle" I can see are already there (the latter I believe is called two-handed punch in GURPS, dunno if any announcers ever called it that)
Also a term I never noticed, twice:
Far as I can tell paintbrushing seems to refer to inflicting pain on the face with a broad surface? Would be interested in seeing other usage of it, first time it stood out to me.
Iwatani also does what the announcers call a delayed German which is a German suplex but pausing to hold her up before dropping her, much like Dalton Castle. In her case, she drops to her knees as she delivers it. Not sure if that variation has a special name. I believe that version would place less weight on the suplexed opponent and require less spinal hyperextension to remain in contact with them.
The second time she did it (the move preceding the pin) the announcer called it a bridging dragon. I didn't really notice a difference between the two, maybe bridging dragon refers to a suplex that lands in a bridge for a pin? Or possibly Iwatani's variation which involves dropping onto her shins? talk2ty 14:52, March 21, 2018 (UTC)
April
The advent of Burnard the Business Bear the previous week, following the debut of Bury the Bear has made me remember Swagger Soaring Eagle and struggle to remember if I am forgetting some other mascots. If there might be potential for a Category:Mascots and if we have a template to make that look professional or if it could work templateless.
Retroactively, Bury was identified to be Kenny Omega and given the extended name Bury the Drug-Free Bear, I still need to get caught up on the recent episodes, not sure who Burnard is yet. It might just be useful to redirect the names to the wrestlers dressed in the costume rather than give the mascots their own pages, guess it is up to admins on how much coverage they think mascots deserve. talk2ty 18:32, April 16, 2018 (UTC)
Re: Mascots
Let me think on it, I'll get back to you. Also, please don't create more disambiguation pages like you are currently doing. - Wagnike2 (talk) 18:11, August 1, 2018 (UTC)
Discord
As an active member of this site, we would love if you would consider joining our Discord. Please see the relevant discussion here. Thanks. - Wagnike2 (talk) 19:18, August 1, 2018 (UTC)
RE: Non-video games
---
The video you uploaded of the Simpsons is a copyright infringement. So it was deleted.--Latin915 (talk) 18:15, November 4, 2019 (UTC)
Disambig events
Please don't make these pages. The standards for disambiguation pages have been changed/the best practices in using them are different than you think. - Wagnike2 (talk) 19:04, December 17, 2019 (UTC)
Community content is available under
CC-BY-SA
unless otherwise noted.