Welcome
Hi, I'm an admin for the Pro Wrestling community. Welcome and thank you for your edit to Reina Gonzalez! If you need help getting started, check out our help pages or contact me or another admin here. For general help, you could also stop by Community Central to explore the forums and blogs.
Please leave me a message if I can help with anything. Enjoy your time at Pro Wrestling!
Dean27 (talk) 01:16, August 4, 2018 (UTC)
Welcome Message from Admin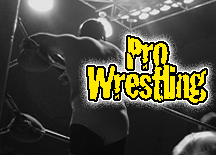 Hi, welcome to Pro Wrestling Wiki! Thanks for your contributions.
Here's a wiki tip for you -- you can sign your name on talk/discussion pages by typing ~~~~ which automatically adds your signature and the date.
Please read these

Editing Tips

before you edit any page! This may save you from a ban.
Please leave a message on my talk page if I can help with anything!

Join our Facebook page
Discord
As an active member of this site, we would love if you would consider joining our Discord. Please see the relevant discussion here.
Jinny
I didn't know she spelled Styles Clash that way. Thanks for pointing that out. --Latin915 (talk) 02:18, August 4, 2018 (UTC)
I've seen you somewhere...
Hi I am one of the administrators here and I noticed you make edits on

luchawiki also right? I have been on luchawiki for years but I think you got there about 10 years before me haha. Anyway does that mean you know a lot about lucha libre and the different luchadors? --Latin915 (talk) 08:34, September 6, 2018 (UTC)
Yeah. I actually don't follow it as closely as I used to but since most of the bigger names appear in other promotions I try and keep up with them that way.kokushishin (talk) 05:32, September 7, 2018 (UTC)
---
I see. I was asking because we could use your help with lucha related stuff here on this wikia. Images needed for luchadors, maybe add a luchador that we dont have, etc. So if you are interested let me know. You can leave me a message by clicking (talk) next to my name. --Latin915 (talk) 07:07, September 7, 2018 (UTC)
Tessa Blanchard
Tessa is with Daga? I didnt know that. Where did you hear that? --Latin915 (talk) 02:43, October 21, 2018 (UTC)
It seems fairly recent (or at least they haven't been public until last month of so) but it's pretty clear from the "diamonds and daggers" posts on their IGs. kokushishin (talk) 03:20, October 21, 2018 (UTC)
Entrance themes
For entrance themes please add the artist of the song along with the song title. Example below. --Latin915 (talk) 19:32, May 11, 2020 (UTC)
Community content is available under
CC-BY-SA
unless otherwise noted.