OVW
Just so you know that started with October 5, 2019 Ohio Valley Wrestling results, we need to move this to October 1, 2019 and then continue the rest of them from that. Another promotion that switched their air dates. - Wagnike2 (talk) 13:55, October 2, 2019 (UTC)
SWAG!
Hello there! I'm a member of the Fandom Editor Experience team and we've selected you to receive some Fandom swag as part of our first Editor Rewards program initiative with Emerging Interests wikis. This is free of charge, with a potential caveat I'll get to shortly.
To claim your swag, you need to visit our Design By Humans storefront, figure out which thing you want, and then fill out this form accordingly.
If you're in the US, just fill out the form and you're golden. If you're not, there will likely be a customs charge after the item arrives in your country that we cannot pay for you, due to vendor limitations. If you don't want to pay it, feel free to refuse the gift. We won't take it personally at all.
*Note: this offer is for this user only. Form requests from other users will be ignored.
Rappy 16:05, October 7, 2019 (UTC)
ECW Hardcore TV images
Just wanted to let you know that the images in the first 6 episodes of ECW Hardcore TV contain a lot of the same images that are repeated in multiple shows.
For example this is the same image found in the following shows:
- KhanKhan12 (talk) 04:31, February 24, 2020 (UTC)
Your new Wiki Manager
Hey everyone, I'm MakeShift and I've been assigned to take over as your Wiki Manager for the Pro Wrestling Wiki! I'm here to help you guys and act as a sort of "middleman" between the community and full-time Fandom staff, and to make sure we keep everything healthy and in great shape.
While I'm at it, I might also bring up Fandom's latest project, the Unified Community Platform, or UCP. Over the next little while, Fandom will be transitioning over to the UCP, and so I'll be here to help make that process smooth for all of you. In how the UCP affects the general user, the project will seek to make editing and getting around wikis a whole lot easier, so it's nothing but an upgrade in terms of editing and content creation, and a bonafide benefit to everyone. If you're in need of any more information surrounding that, feel free to check out the previously linked blog, or even shoot me a message!
Overall, if you need any help, don't be afraid to swing me a message, and I'll try my best to solve any problems you guys might have! —MakeShift (talk · contribs) 03:47, February 28, 2020 (UTC)
idea for new episode template criterion
Template:2011_Infobox_Wrestling_episode includes a site= field
I can see for example at March 6, 2020 Smackdown results it displays as "event reference".
CageMatch applies the overall numbering (how many episodes of each TV program) but I was wondering if we could add something about season / season-respective numbering.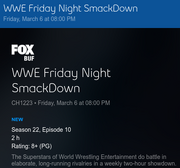 For example see this image I have added here which shows how the recent SmackDown displays on my PVR. It is described as "Season 22, Episode 10". I think each year is considered a season because there were 5 fridays in January and 4 fridays in February, so the 1st of March would be the 10th.
Do you think we could maybe add a season= and episode= field to the template to reflect that data, since site= reflects the overall numbering from CageMatch? talk2ty 16:42, March 8, 2020 (UTC)
2nd Danny Davis
I am looking to go back and remedy a situation from back in 2012 according to your suggestion.
Galaxian One was deleted. I would like to discuss the real name to which to redirect it.
Galaxian 1 you can see was actually just created September 2019 by Gobokong:
It appears the mistake I made (while not nonsense/gibberish as labelled) was to create an article on someone without having the research capabilities to uncover who was likely under the mask.
That was largely because at the time, I considered "The Score" hosts to be experts and they only expressed uncertain theories as the Galaxians' identities. Other sources have subsequently expressed more confidence about those identities.
Previously I had quoted from "The Score" TV show blog:
I believe Galaxian One was Danny Davis under that mask. Not the famous, dastardly referee Danny Davis either. The other Danny Davis, who went on to help operate WWE's developmental territory for a time, and was responsible for the training of future Superstars like The Bashams, Eugene and Rob Conway.
Presently the article we have at Danny Davis appears to correspond to Wikipedia:Dangerous Danny Davis while Daniel Burile appears to correspond to Wikipedia:Nightmare Danny Davis.
Do you think we should possibly move these with their Dangerous/Nightmare adjectives and turn Danny Davis into a disambiguation page?
Burile seems to originate from https://www.wrestlingdata.com/index.php?befehl=bios&wrestler=1275 while Daniel Briley also redirects there.
If Burile was his real surname then do you know how we could find out in what context Briley was used? Like a stage name? Or perhaps it was the other way around and Briley was the real surname and Burile was a stage name?
Another possibility is that neither was a stage name and one was just a mispelling of the other? talk2ty 15:46, March 11, 2020 (UTC)
The Undertaker/Event history
Hey can you unblock The Undertaker/Event History so I can finish clearing it up? RobotManiac (talk) 23:02, March 13, 2020 (UTC)
---
Sent you a message on Discord. See you there.--Latin915 (talk) 16:07, March 18, 2020 (UTC)
WWE releases
Among them Drake Maverick which is strange since he was just announced for the Cruiserweight tourney. --Latin915 (talk) 17:49, April 15, 2020 (UTC)
Wrestler Event history
Feel free to start removing these as you see fit. - Wagnike2 (talk)
M and M
Hey hey, ho ho, Miz and Morrison!
I went to search for their tag team's article and it took me a few seconds to figure out it was at John Morrison and The Miz...
I can't really remember the last time they were introduced that way. I'm proposing perhaps a move to the new order and shortened moniker they've been using regularly? Tycio (talk) 01:56, May 31, 2020 (UTC)
Newbie
Hi I'm new here. Can I help? CalypsoStrength5011 (talk) 10:35, October 11, 2020 (UTC)
Can not update my juan jeremy page
Greetings I have been in contact w administrator name Yury who sAid I should contact you regarding moving the protective rights to my page. I was trying to add content and videos and pictures. Sadly I kept getting error messages. Please help or is it possible you have an email so I can send you it via email then you can do it on your end.
please advise.
thanks
---
NXT moving To Tuesdays made official by WWE:
Latin915 (talk) 16:01, 30 March 2021 (UTC)
List of WWE Pay Per View Events
This page is severely outdated so could you consider unprotecting it so we can edit it and bring it up to date or maybe an admin can update it?
Thank you so much for the assistance!
SPONGEBOBSUPERFANINFINITY (talk) 3:22, April 1, 2021 (UTC)
Event Summaries
Please discontinue adding these to results pages. We need to move away from taking direct content from WWE.com and this is part of the changes that we have decided on. Wagnike2 (talk) 01:51, 10 July 2021 (UTC)