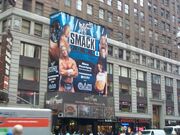 The World (formerly WWF New York) was a WWE-themed restaurant/nightclub in Times Square in New York City, in the Paramount Theater building on the corner of Broadway and 43rd Street. The idea for the complex was inspired by rival organization World Championship Wrestling's Nitro Grill in Las Vegas.
WWF New York
In 1999, WWF Chairman Vince McMahon leased space at the Paramount Theater in Time's Square in Manhattan. He opened the complex in late 1999, originally named WWF New York. The complex consisted of a retail store with WWF merchandise and an underground nightclub. Wrestling fans from around the Metropolitan New York City area, as well as from around the world, went to the complex as they would show pay-per-views, Raw, SmackDown!, and other events on monitors all around the nightclub, as well as on a big screen. A fee was charged for admission to the events. The restaurant exclusively showed WWF/WWE pay-per-views live from the United Kingdom at no charge. WWF/WWE stars made appearances at the complex. A star or two hosted all events live from the complex. From October 2000 to May 2002, WWF Sunday Night Heat emanated from the complex, hosted by Michael Cole and Tazz.
During The Invasion storyline Chris Kanyon tried taking over WWF New York and renaming it the Alliance New York, but it was only for one Monday Night Raw and forgotten the following SmackDown!.
The World
In May 2002, WWE changed the complex's name to The World as part of their re-branding efforts following a lawsuit from the World Wildlife Fund to change their name from WWF to WWE. In February 2003, WWE CEO Linda McMahon decided to close The World, so WWE could concentrate more on their global efforts. Immediately upon the announcement, the restaurant/nightclub was closed down. The retail shop was closed in April of that year.
Hard Rock Café
The complex remained closed until 2005, when the Hard Rock Cafe took over the lease and the business. On August 16, 2006, WWE returned to the location for the 2006 WWE Diva Search finale. They returned again to the location on March 26, 2008 for the WrestleMania XXIV press conference. And yet again on March 31, 2009 for the WrestleMania XXV press conference.
Community content is available under
CC-BY-SA
unless otherwise noted.