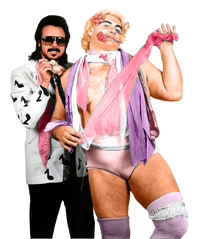 The Flower Shop was an interview segment featuring host "Adorable" Adrian Adonis, which aired on the World Wrestling Federation's syndicated program during the spring and summer of 1986. The program was a replacement of Piper's Pit, when Piper took a several-months hiatus from the WWF.
The interview segment was used to help get Adonis' new "effeminate cross-dresser" gimmick over. Each program was introduced by Adonis' manager, Jimmy "Mouth of the South" Hart, saying, "And now, here's the host of 'The Flower Shop,' Adorable Adrian!" The set was decorated with several tables and flowers, while Adonis held a microphone encased in a boquet of flowers.
"The Flower Shop" was the primary backdrop for two notable storylines during 1986:
Paul Orndorff's slow-building heel turn against his friend Hulk Hogan, with Adonis relentlessly needling Orndorff about living in Hogan's shadow.
Adonis' heated rivalry with Piper, who returned in August 1986 to resume hosting "Piper's Pit."
The latter feud came to a head when Adonis and Piper engaged in a duel between their two respective talk segments. After Piper began getting the verbal upper hand and insulted former allies "Cowboy" Bob Orton and the Magnificent Muraco, they and Adonis brutally attacked Piper, covering him in lipstick and damaging the "Piper's Pit" set.
The final "Flower Shop" segment aired October 4, 1986 (a week after the Flower Shop-Piper's Pit "duel" aired), with an injured Piper destroying the set with a baseball bat and helping the Piper-Adonis feud continue until WrestleMania III.
Community content is available under
CC-BY-SA
unless otherwise noted.