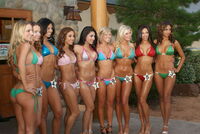 A swimsuit competition is a beauty contest in which people wearing swimsuits compete against each other for prizes including trophies and money. Many showcase women wearing minimal bikinis. Swimsuit competitions may be organized or sponsored by companies for marketing purposes like NOPI's annual "Hot Import Nights" bikini contest, which is held in conjunction with the import car-show in Atlanta, Georgia, and the annual Hooter's bikini competition. Competitions are held in bars and nightclubs, during intermissions of boxing or wrestling matches, and at car shows. Bodybuilding competitions may also feature bikini contest segments.
In wrestling
List of competitions
January 12, 2000 - East Coast Pro Wrestling Bikini contest 2000 with Luxurious Lynn, Kristi Kiss, Vicki (aka Foxy Fox), Tracii Taylor, Miss Asia and Joe Rules
January 23, 2000 - Mae Young defeated Ivory vs. Terri Runnels vs. Jacqueline vs. B.B. vs. Luna Vachon vs. The Kat in a Miss Rumble 2000 Swimsuit Competition
March 1, 2000 - A swimsuit contest took place backstage at WCW Thunder.
January 23, 2005 - WWE House Show - Molly Holly defeated Christy Hemme in a Swimsuit Contest.
May 30, 2005 - Victoria participated in a swimsuit competition, losing to Christy Hemme
March 7, 2008 - Maryse competed in a swimsuit contest, against Victoria, Michelle McCool, Cherry, and Eve Torres. In the end, Maryse and Eve got into a fight.
March 14, 2008 Smackdown results - A bikini contest occurred in which Maryse was the first eliminated.
June 16, 2008 - Eve Torres, Jillian, Layla, Maria, Lena Yada, Maryse and Melina competed in a bikini contest hosted by Charlie Haas. Maria garnered the most cheers from the crowd and was named the winner
July 11, 2009 - Local Town Wrestling -
July 13, 2009 - Alicia Fox, Maryse & Rosa Mendes defeated Gail Kim, Kelly Kelly & Mickie James in a Summer Swim Suit Spectacular Six Man Tag Team Match
April 12, 2010 - Brie Bella & Nikki Bella defeated Gail Kim, Kelly Kelly, Jillian Hall & Rosa Mendes in a Baywatch Swimsuit Triple Threat Tag Team Match with special referee Santino Marella (2:00)
June 20, 2012, FCW, Orlando, FL: Diva Bikini Contest featuring Buggy (as Natalie)
Gallery
See also
External links
Community content is available under
CC-BY-SA
unless otherwise noted.