Steve Borden (born March 20, 1959) better known by his ring name Sting, is an American professional wrestler, currently under contract with Total Nonstop Action Wrestling, where he is the current reigning TNA World Heavyweight Champion.
As a singles wrestler, Sting has technically won a total of thirteen World Heavyweight Championships in various promotions, though only ten of these reigns are recognized as "World" title reigns by Pro Wrestling Illustrated. He has held the NWA World Heavyweight Championship two times, the WCW World Heavyweight Championship six times, and the TNA World Heavyweight Championship two times. He is arguably the most well known wrestler to have never signed with World Wrestling Entertainment.
Professional wrestling career
Borden was hired to help recruit a fourth member of Powerteam USA, a professional wrestling stable headed by Red Bastien and Rick Bassman containing three other former bodybuilders while at his Gold's Gym in San Fernando Valley. After many failed to be recruited, Borden was given an offer to be the fourth member. At the time, Borden had little interest in wrestling, but Bassman constantly tried to recruit him in which Steve finally agreed. Borden trained under Red Bastien and Rick Bassman for ten weeks and debuted in November 1985 as Flash Borden.
Universal Wrestling Federation (1985–1987)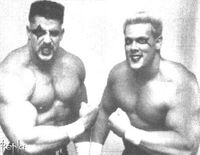 Power Team USA disbanded in 1986, and two of the members, Borden and Jim "Justice" Hellwig (later becoming The Ultimate Warrior), formed a tag team known as the Blade Runners. Borden changed his name initially from Flash to Sting, while Hellwig became Rock. The Blade Runners wrestled in the Universal Wrestling Federation based in Shreveport, Louisiana until Rock left the promotion in mid-1986. Left without a partner, Borden joined Hotstuff and Hyatt International, a stable headed by Eddie Gilbert and Missy Hyatt. He won the UWF World Tag Team Championship twice with Gilbert in 1986 and a third time with Rick Steiner in 1987. Initially a heel wrestler, Sting turned face following a match against Terry Taylor in mid-1987, where former manager Gilbert interfered on Taylor's behalf, costing Sting the match. Following a two-on-one gangup, Gentleman Chris Adams cleared the ring and became instrumental in Sting's face turn when Adams asked if Sting was with him or against him in his feud with Taylor and Gilbert. It was during this period of working for Bill Watts that Eddie Gilbert publicly endorsed Borden by stating to a 'dirt sheet' that Sting would be a megastar in the future. Later that year, Sting was tabbed to win Gilbert's UWF Television title until Jim Crockett bought the company from Bill Watts. Booker Dusty Rhodes decided to put the belt on Terry Taylor to set up a feud with Nikita Koloff to unify the NWA and UWF Television titles. The decision was made to use unknown Shane Douglas as the transitional champion by Rhodes, who did not want to diminish Sting's growing stardom with a brief title run.
National Wrestling Alliance
1987–1989
Rhodes decided to use the opening bout of Jim Crockett's first foray into pay-per-view, Starrcade '87, to showcase the young superstar, partnering Sting with Michael P.S. Hayes and Jimmy Garvin in a time-limit draw battle against Eddie Gilbert, Rick Steiner, and Larry Zbyszko. Having established himself as a rising star, Sting was one of the only UWF alumni to be pushed through the NWA. At the inaugural Clash of the Champions, Sting challenged Ric Flair for the NWA World Heavyweight Championship. The match itself was booked as a 45-minute time-limit draw. Sting lost to Flair in several non-televised rematches following the Clash and later that year continued to battle against other members of the Four Horsemen. Sting teamed with Nikita Koloff at the The Great American Bash challenging Tully Blanchard and Arn Anderson for the NWA World Tag Team Championship; the match ended in a 20-minute time-limit draw. Rhodes continued to book Sting in title matches throughout the year against both NWA United States Champion Barry Windham and NWA Television Champion Mike Rotundo. In the fall of '88, Sting was attacked by The Road Warriors after a televised match. Sting was chosen as the most over face with the fans by Rhodes, who knew turning Hawk and Animal heel would be no easy task. Dusty Rhodes teamed with Sting to challenge for the tag team belts at Starrcade '88, defeating The Road Warriors by disqualification.
Sting then returned to singles matches in 1989, starting the year off on New Year's Day wrestling Ric Flair to a one hour draw in Atlanta's Omni. After a long push, he finally won his first title in the NWA when he defeated Mike Rotundo for the NWA Television Championship. He defended the TV Championship actively but tended to face sub-par challengers such as the Iron Sheik. In mid 1989, The Great Muta was booked to challenge Sting on July 23 at The Great American Bash. The match was a classic Dusty Finish even though the "American Dream" had been fired months before. Sting got the three-count and was announced as the winner. A replay showed Muta's shoulder was up at the count of two and the NWA decided to declare the title vacant. Sting and Muta battled in many rematches, but they always ended in disqualification, giving neither man the championship. Eventually, Muta won a no disqualification match against Sting to win the title after using a blackjack to get the win. In the main event of The Great American Bash, Ric Flair faced Terry Funk. After Flair got the victory, he was attacked by Muta, who was a part of the J-Tex Corporation, only to have Sting come to his rescue. Sting and Flair feuded with Muta and Funk for the rest of summer and fall, culminating in a Thunderdome Cage match between the two teams at Halloween Havoc '89, which Flair and Sting won. The alliance with Flair resulted in Sting joining the Four Horsemen along with the Arndersons, Arn and Ole.
Sting finished out the year winning the four-man round robin Ironman tournament at Starrcade '89. The night ended when he defeated Flair in the final match to accumulate the necessary amount of points needed to win. It also made Sting the number one contender for Flair's NWA World Title, which was the catalyst for the events that immediately followed.
1990–1991
Sting was summarily dismissed from the Horsemen on February 6, 1990 at Clash of the Champions X: Texas Shootout after refusing to relinquish an upcoming title shot at Flair, thus restarting their rivalry. Later that evening, Borden suffered a legitimate knee injury while interfering in a Steel Cage match featuring the Four Horsemen. Borden's injury forced WCW bookers to find a new opponent for Flair for the forthcoming WrestleWar pay-per-view. Sting also resumed his on-screen friendship with Lex Luger, about this time. Luger unsuccessfully challenged Flair for the title in a series of matches while Sting recuperated. Sting played a part in the finish of the match at WrestleWar, as Luger relinquished his chance to win the title in favor of helping Sting at ringside, who was in great peril at the hands of the other Horsemen. WCW officials wanted Flair to drop the title to Luger at WrestleWar, but he refused. Flair said that he had promised Sting that he would be waiting for him to get better, and would hold the belt until then. Flair felt that Sting, as the top face in the company, deserved the belt more than Luger, a man he held little regard for offscreen. At the Capital Combat event in May, Sting was accosted by the Four Horsemen and thrown into a metal cage at ringside and rescued by RoboCop.
After Borden's recovery, Sting finally defeated Flair for the NWA World Heavyweight Championship on July 7, 1990, at the Great American Bash. He went on to feud with title contenders Flair and Sid Vicious. Vicious appeared to defeat Sting in a title match at Halloween Havoc, but the "Sting" who he pinned was revealed to be an impostor, played by Horseman Barry Windham. The real Sting appeared soon after and pinned Vicious to retain his title when the match was restarted. During this time, Sting became distracted by a masked man known as "The Black Scorpion" who taunted and attacked Sting on many occasions. This feud culminated in a final showdown between Sting and The Black Scorpion at Starrcade: Collision Course. The Cage match ended with Sting pinning and unmasking the Scorpion, who turned out to be Ric Flair.
World Championship Wrestling
Sting's championship reign ended on January 11, 1991, when he was defeated by Flair in a rematch from Starrcade. In the same month, WCW seceded from the National Wrestling Alliance, in the process recognizing a WCW World Heavyweight Championship and a WCW World Tag Team Championship. Sting then feuded with Nikita Koloff in the summer of 1991. He also took part in what many consider to be one of the best matches of 1991, teaming with Lex Luger to face the Steiner Brothers at the first SuperBrawl pay-per-view. That match had also triggered the feud with Koloff when he took a chain-shot intended for his partner Luger (who had been feuding with Koloff at the time). In August 1991, Sting defeated Steve Austin to win a tournament for the WCW U.S. title. At Starrcade '91 Sting went on to win the first ever Battlebowl in which he received a Battlebowl championship ring. At the end of 1991, Sting became embroiled in a feud with the Dangerous Alliance, headed by manager Paul E. Dangerously. The stable targeted Sting because he was the so-called "franchise" of WCW, and vowed to destroy both him and the promotion that he was the face of, although he was also being targeted by Luger, who had once again turned heel and as WCW Champion viewed Sting as a threat. Sting engaged in many matches with Dangerous Alliance members, especially "Ravishing" Rick Rude, who was the group's main star. It was during this feud that he won the first of his six WCW World Heavyweight titles, defeating Lex Luger at SuperBrawl II on February 29, 1992. The feud ended when Sting and his allies, named Sting's Squadron (consisting of himself, Ricky Steamboat, Dustin Rhodes, Barry Windham, and Nikita Koloff) defeated the Alliance (Rude, Austin, Arn Anderson, Larry Zbyszko, and Bobby Eaton) in a WarGames match at WrestleWar in May 1992.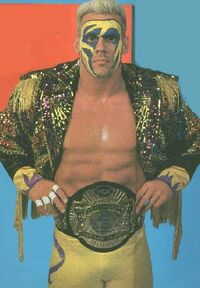 Near the end of Sting's battles with the Dangerous Alliance, the seeds were sown for what arguably became one of the most famous feuds of his career. In April 1992, he defended his WCW World title at The Omni in Atlanta against the 450-pound Big Van Vader. During the match, Vader splashed Sting, cracking three of his ribs and rupturing his spleen. Sting recovered and defended his title against Vader at The Great American Bash in July, dropping the belt to him after missing a Stinger Splash (hitting his head on the ringpost in the process), and receiving a powerbomb. After beating Cactus Jack in a Falls Count Anywhere match at Beach Blast and WCW newcomer Jake Roberts in a "Spin the Wheel, Make the Deal" match at Halloween Havoc, Sting again faced Vader in the "King of Cable" tournament final at Starrcade, where Sting was victorious. The Sting-Vader feud continued into 1993, with Vader defeating Sting in a bloody Strap match at SuperBrawl III. Sting exacted revenge by beating Vader for the World title on March 11 in London, England, but lost it back to him six days later in Dublin, Ireland. Sting then teamed with WCW newcomer Davey Boy Smith to beat the team of Vader and Sid Vicious at Beach Blast, in a match that was set up by a mini-movie that saw an evil midget blow up Sting's boat. At the end of the year, Sting was one of the first people to congratulate the newly-returned Ric Flair after his title victory over Vader at Starrcade. Sting feuded with Vader and Rude through the first half of 1994, defeating Vader in a match for the vacant NWA World title (referred to as the WCW International World title) at Slamboree after Rude was forced to vacate due to his suffering a career-ending injury against Sting in Japan. Soon afterward, Flair turned heel and defeated Sting in a title unification match at Clash of the Champions XXVII. Sting spent the second half of '94 and most of 1995 teaming with new arrival Hulk Hogan in his battles against the Three Faces of Fear and later against the Dungeon of Doom.
In October 1995, Flair convinced Sting to team with him in a tag match against Arn Anderson and Brian Pillman at Halloween Havoc, as Anderson and Pillman had attacked Flair earlier in the night. Flair was unable to come out for the first part of the match and Sting fended off both Anderson and Pillman alone. Finally, Flair came out, but eventually turned on Sting and reformed the Four Horsemen with Anderson, Pillman, and later Chris Benoit. Sting closed out 1995 by feuding with the Horsemen. His alliances with Hogan and Randy Savage led the Horsemen to attack them as well.
1996–1998
The first part of 1996 had Sting teaming with Lex Luger (who had returned to WCW in September 1995) to win the WCW World Tag Team title from Harlem Heat. The reign was highlighted by the face Sting usually oblivious to the cheating tactics of Luger (a tweener) which became the means by which they usually retained the title. When Luger became temporarily unavailable in March 1996, Harlem Heat member Booker T teamed up with Sting on one occasion to successfully prevent the title from changing hands. A rematch between Harlem Heat and the team of Luger and Sting then came the following night, in which a mutual respect was displayed between Sting and Booker T. Harlem Heat eventually won the title back on the June 24, 1996 edition of WCW Monday Nitro. Sting also received a World title shot against The Giant at Slamboree, but lost after accidental interference from Luger.
In the summer of 1996, Sting was the first to stand up to "The Outsiders" (Kevin Nash and Scott Hall). They had a match at Bash at the Beach with Sting being joined by Randy Savage and Lex Luger. The Outsiders announced they would have a 3rd man in their corner as well. In the opening minutes of the bout, Hall and Nash's partner was nowhere to be seen, but the WCW contingent's 2 on 3 advantage was short lived as Luger had to leave the match early due to an injury. Sting and Savage fought against Nash and Hall until the arrival of Hulk Hogan, who was apparently about to back up the WCW wrestlers until he attacked Savage with his Leg drop finisher in a swerve. The three subsequently formed the New World Order (nWo) at the end of the match, which was ruled a no-contest. The nWo introduced an impostor Sting (played by Jeff Farmer), which led the crowd to believe that Sting had turned his back on WCW during a WarGames match at Fall Brawl. When the real Sting returned he was upset by the fact that many wrestlers believed that he had in fact betrayed WCW despite his denials, that he himself felt betrayed, and so he left WCW by declaring himself a "free agent." He began appearing in the rafters at WCW events; his new silent persona, complete with corpse paint, a trench coat, and longer hair replacing his spiked haircut, which was quite obviously inspired by The Crow. He was joined in the rafters on a few occasions by Randy Savage, but Savage eventually joined the nWo. He also began using a baseball bat as his signature weapon. The nWo, in turn, began to paint Farmer's face in the same fashion to try to continue the confusion, becoming known as nWo Sting. While appearing on a WCW/nWo merchandise special on QVC Sports in late 1999, Sting admitted that Scott Hall initially suggested the idea of painting his face like The Crow. Sting continues to use this type of face paint, occasionally with different designs and the use of color. In an unusual loyalty test, Sting confronted WCW wrestlers in the ring and shoved them a few times with his bat until they were provoked enough to advance on him, at which point he drew the weapon back into a more threatening stance, causing them to stop. He would then hand the bat to the offended wrestler and turn his back, offering them a chance at retaliation. When the wrestler declined, Sting would nod, retrieve the bat, and leave the ring. Following the eventual revelation of his loyalty to WCW, he began coming to the aid of many of these wrestlers (often at the end of a television taping) during group battles with the nWo.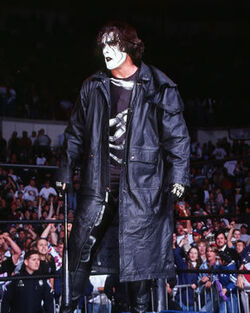 After nearly six months of uncertainty and mystery, Sting finally showed his true colors as a face by single-handedly taking out the entire nWo at Uncensored in March 1997. The pay-per-view had drawn to a close and the nWo were celebrating with their new found partner, NBA star Dennis Rodman, when Sting rappelled down over 70 feet from the roof of the arena via zip-line and began his historic battle against the nWo in which he ended up giving the Scorpion Death Drop to the principal members of the nWo: The Outsiders, Randy Savage, and WCW World Champion Hollywood Hogan. After this attack, he frequently rappelled from the rafters or even came up through the ring to attack unsuspecting nWo members and employ decoy Stings to play mind games during the closing segments of WCW Monday Nitro. Sting's appearances to fight the nWo at the end of almost every WCW Monday Nitro helped to keep and widen the ratings gap between WCW and the WWF throughout the summer. On-screen commissioner James J. Dillon tried many times to get Sting to return to wrestling by making contracts to fight various nWo members, but Sting ended up tearing up the contracts because there was only one man he wanted: Hollywood Hogan.
Sting and Hogan finally met at Starrcade for the WCW World Championship, with Sting winning controversially due to a decision by special guest referee Bret Hart when he reversed the decision made by referee Nick Patrick after Hogan pinned Sting after what he believed to be a "fast count." The match was restarted and Sting made Hogan submit to the Scorpion Deathlock.[4] It was heavily rumored that Sting was supposed to get a "clean" victory in the match, but in the days leading up to the match, Terry Bollea (Hogan), invoking his "creative control" clause in his contract, changed his stance on the outcome from a "clean" finish to a tainted finish that didn't weaken his character. The compromise ended up being the controversial ending of the match. The next night on WCW Monday Nitro, Hogan protested the decision which led to a rematch. The rematch met with the same result and later in the week on the inaugural episode of WCW Thunder, on-camera commissioner J.J. Dillon held the title up and forced Sting to surrender the belt. It was during this situation that Sting said his first words on camera in a year and a half. Upon handing over the belt, he told Dillon, "You've got no guts!" and then turned to Hogan and said, "And you....You're a dead man!" Sting eventually recaptured the title with help from "Macho Man" Randy Savage at SuperBrawl VIII. He went on to have successful title defenses against the likes of Scott Hall, Diamond Dallas Page, and Kevin Nash before losing the title to Savage at Spring Stampede in April 1998, due to interference from Nash.
In the end, Sting amassed three victories over Hulk Hogan, while Hulk Hogan has never been able to defeat Sting. Sting is one of only four wrestlers that have defeated Hulk Hogan without losing to him. Brock Lesnar, Goldberg, and The Rock are all undefeated against Hogan, although Hogan has pinned Sting in a tag team match on Nitro, and he pinned The Rock in a tag team match on Raw. However, Sting has the highest amount of victories over him.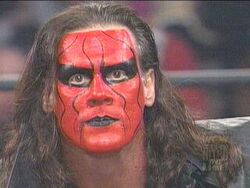 Later in 1998, nWo split up owing to differences between Hogan and Nash. Nash formed the tweener group known as the nWo Wolfpac. Months later, debate arose as to whether Sting would join one of the factions. Sting made an entrance, sporting the black and white shirt, only to reveal his true stance with the Wolfpac. Soon after, he changed his white face paint to red as well as his ring attire accordingly. Sting held the tag team titles as part of Nash's stable. He and the Giant won the titles at Slamboree. When the team split, Sting was allowed to choose Nash as a partner as a result of his victory at The Great American Bash in Baltimore. Throughout the summer, Sting, along with fellow nWo Wolfpac members Nash, Lex Luger, and Konnan feuded with Hogan's heel faction, nWo Hollywood. Soon after, Sting engaged in a feud with Bret Hart, as a result of Hart's (kayfabe) betrayal after claiming to respect Sting as a result of their similar finishing holds, the Sharpshooter and the Scorpion Deathlock. After suffering (kayfabe) injuries as the result of a bat attack by Hart during a match at Halloween Havoc, Sting disappeared from WCW Television for several months. During this time, the nWo recombined and went fully heel again after The Fingerpoke of Doom incident in 1999. Afterward, Sting left the stable and went out on his own once more.
1999–2001
In 1999, Sting once again won the WCW World Heavyweight Championship on Monday Nitro against Diamond Dallas Page, but lost it back to him only a little over an hour and a half later in the Main Event in a four-way match set up by Kevin Nash (the fourth participant was Bill Goldberg). Page pinned Nash, allowing him to win the title without beating the champion. This unsuccessful title defense ended the shortest title reign in WCW history. Sting teased turning heel by first attacking Hulk Hogan (who had once again become a face at this point) at Fall Brawl, hitting Hogan with his baseball bat several times en route to regaining the WCW World Heavyweight Championship. Sting's heel turn and subsequent attitude change did not go over well with the fans. They still cheered him despite the fact that he was supposed to be the bad guy. He retained against Hogan at Halloween Havoc after Hogan arrived to the ring in street clothes and merely laid down for a 3-count, but promptly lost an unsanctioned defense to Bill Goldberg at the end of the night. Sting was stripped shortly thereafter (due to an attack on referee Charles Robinson), and returned to facedom. He was given the opportunity to regain the title in a tournament, but lost to Bret Hart in the semi-finals. He then began a feud with former partner Luger.
In 2000, Sting had an intense feud with the newcomer Vampiro. Vampiro set him alight in a "Human Torch Match" (in actuality, it was a stuntman who actually jumped off although it was presented as if he fell), but came back to even the score with Vampiro. He was "injured" by Scott Steiner in 2000, leaving WCW TV for good. However, he returned for the last episode of Monday Nitro, on March 26, 2001 and defeated his longtime rival Ric Flair, embracing in a sportsmanlike fashion at the end of the contest. Fittingly, this was the last WCW match ever, and the final match between Sting and Flair, ending a 13-year, on-again/off-again feud.
World Wrestling All-Stars (2002–2003)
Sting returned to professional wrestling in late-2002, touring Europe with the World Wrestling All-Stars (WWA) throughout November and December. His first match with the WWA was on November 28, 2002 in Dublin, and saw Sting team with Lex Luger to defeat Buff Bagwell and Malice. On December 6 in Glasgow, Scotland, Luger defeated Sting in a match for the vacant WWA World Heavyweight Championship following interference from Jeff Jarrett. On December 13, 2002 in Zürich, Switzerland, Sting defeated Luger to become the WWA World Heavyweight Champion.
Sting toured Australia with the WWA in May 2003. On May 21, he successfully defended the WWA World Heavyweight Championship against Rick Steiner and Shane Douglas in Sydney. On May 23 in Melbourne, he retained the title in a match with Disco Inferno, despite interference from Chris Sabin and Konnan. On the last ever WWA show, on May 25 in Auckland, New Zealand, Sting lost the WWA World Heavyweight Championship to NWA World Heavyweight Champion Jeff Jarrett in a championship unification bout following interference on Jarrett's behalf by Rick Steiner. This last show aired on pay-per-view in the United States on June 8, 2003.
Total Nonstop Action Wrestling
2003–2005
In 2003, Sting signed a contract committing him to four appearances with the Total Nonstop Action Wrestling (TNA) promotion. He debuted in TNA on the June 18 one year anniversary show, teaming with Jeff Jarrett to defeat A.J. Styles and Syxx Pac. Following this, Borden engaged in a comprehensive series of sitdown interviews with Mike Tenay, discussing his career and his faith. Sting returned to TNA on November 5, 2003, defeating Jarrett by disqualification in a match for the NWA World Heavyweight Championship. On November 12, Sting teamed with A.J. Styles to defeat Jarrett and Lex Luger. He made his final TNA appearance of 2003 on December 17, defeating Jarrett in a non-title match.
On March 24, 2004, Borden was interviewed once again by Mike Tenay as part of the promotion for his direct-to-video biographical film, Sting: Moment of Truth, and on March 31, he returned to the company one night only as the special guest enforcer for the main-event, a 4 Way match between Abyss, A.J. Styles, Raven, and Ron Killings, which was won by Raven.
On December 11, 2005, at Turning Point, as Jeff Jarrett stood in the ring celebrating his victory, the lights in the arena went out, images of a scorpion—Sting's symbol—then appeared on the arena screens, along with the date "January 15, 2006." Spotlights then illuminated the ring, revealing that a chair bearing Sting's signature trench coat, boots, and black baseball bat had been placed in the center of the ring. His return to TNA was officially announced one minute after midnight on the January 1, 2006 episode of Impact!.
2006–2008
At Final Resolution, Sting and Christian Cage defeated NWA World Heavyweight Champion Jeff Jarrett and Monty Brown after Sting pinned Jeff Jarrett following the Scorpion Death Drop.[4] His heavily promoted return was greeted with chants of "welcome back" and "you've still got it" by the Orlando, Florida audience.[9] TNA later revealed that Final Resolution was "by far the most-purchased TNA pay-per-view event in company history, breaking all previous numbers." On the January 28, 2006 episode of Impact!, Sting made his Spike TV debut and first appearance on national television in almost five years, coming to the ring at the end of the show to make a "major announcement." Sting noted that he had never had a chance to properly say goodbye to his fans. He then announced that Final Resolution had been "his goodbye", before thanking the TNA management and the fans. Sting then dropped his bat, with a spotlight appearing over it, and left the ring, shaking hands with various TNA wrestlers on his way up the ramp.
With Sting gone, the storyline continued with Jeff Jarrett and Eric Young worrying that Sting had not actually retired and sending Alex Shelley to California to videotape Sting at home. Sting discovered Shelley filming, then walked up to Shelley's car and told him that he was going to show up at Destination X and confront Jeff Jarrett as "Steve Borden." Clad in "street clothes" and without facepaint Borden returned at Destination X, saving Christian Cage and Rhino as they were attacked by Jarrett's Army. He placed Jarrett in the Scorpion Deathlock, but was attacked by the debuting Scott Steiner shortly thereafter.[4] In his first cable television match in five years, Sting defeated Eric Young on the April 13, 2006 episode of Impact!. After being attacked by Jarrett, Steiner, and America's Most Wanted. Sting was saved by A.J. Styles, Ron Killings, and Rhino, who he announced as his teammates in his Lethal Lockdown match with Jarrett's Army. At Lockdown, Sting, A.J. Styles, Ron Killings, and Rhino (billed as "Sting's Warriors") defeated Jarrett, Steiner, and America's Most Wanted after Chris Harris tapped out to the Scorpion Death Lock. Following Lockdown, Sting proceeded to seek out partners to help him defeat Jeff Jarrett and Scott Steiner for good. After bringing out Lex Luger, Buff Bagwell, and Rick Steiner as options, he settled on Samoa Joe. At Sacrifice, Sting and Samoa Joe defeated Jarrett and Steiner when Joe pinned Jarrett with a Muscle Buster.[4]
Still having proven unsuccessful at putting Jarrett away, Sting defeated Scott Steiner by disqualification to earn as spot in the King of the Mountain match at Slammiversary. Due to a confrontation with Christian Cage during the match, Sting was distracted, allowing crooked referee Earl Hebner to knock over the ladder both were on, sending both to the floor and allowing Jarrett to win. At Victory Road in July, a four-man Number One Contender match was held for a shot at Jeff Jarrett for the NWA World Heavyweight Championship. During the match, Jeff Jarrett, disguised as a cameraman came into the ring with a bottle of gasoline and squirt it into Sting's eyes. Sting was taken by security into the back and as a result, taken out of the running for the #1 contender match. As it continued as a 3-man contest, Sting returned to the ring with his head wrapped in bandages. After performing the Scorpion Death Drop on Scott Steiner, Sting pinned Steiner and won the #1 contendership. After a confrontation with Christian Cage in the ring right after the match, they both shook hands, and Cage showed his respect for Sting. However, on August 13, 2006 at Hard Justice, Sting failed to win the NWA World Heavyweight Championship losing to Jeff Jarrett after Christian Cage turned heel and hit Sting with Jarrett's guitar. On the August 17, 2006 edition of Impact!, Sting stated that he wanted a rematch with Jeff Jarrett at Bound for Glory, TNA's biggest pay-per view of the year. Jarrett accepted the match, with the implication that Sting put his career on the line, a stipulation Sting accepted. Sting then retreated to train for what could have been his final match. Meanwhile Impact! began showing videos of Sting going through a so-called transformation with many biblical references.
On October 22, 2006, in a Title vs. Career match at the Bound for Glory PPV, Sting returned debuting his new look, a hybrid of his surfer, crow, and nWo Wolfpac styles, looking physically much leaner. He went on to claim his second NWA World Heavyweight title when Jarrett submitted to the Scorpion Deathlock marking the first major championship title Sting had won since 1999. With that victory, Sting became the oldest NWA World Heavyweight Champion of the TNA era, as well as the only person to ever win the title both before and after the inception of TNA. He lost the title to "The Monster" Abyss at Genesis by disqualification after pushing aside the referee and pushing Abyss into a stack of tables covered in barbed wire. In the weeks following Genesis, Sting's feud with Abyss continued as he tried to get in Abyss' head by telling him he was being used by his satanic manager James Mitchell. Abyss was visibly affected by this, but remained by Mitchell's side. Sting's former friend Christian Cage and his bodyguard Tomko were also thrown in the mix, with Cage claiming he knew a dark secret in Abyss' past. The three finally met in a Three Way match for the NWA World Heavyweight title at Turning Point, with Abyss retaining the title. After Turning Point, Sting continued to try to convince Abyss he was nothing but a machine for Mitchell, and he got so far into Abyss that Abyss grabbed Mitchell by the throat, almost chokeslamming him on an edition of Impact!, but ultimately convinced himself not to.
As 2007 came along, Sting continued his feud with Abyss while trying to recapture the NWA World Heavyweight Championship. At Final Resolution, Sting faced off against Abyss and Christian Cage for the NWA World Heavyweight Championship but failed to win back the championship. On the January 24, 2007 edition of Impact!, Sting revealed after going through public records that Abyss shot his own father three times in the back, sending him into a coma. During the ensuing brawl throughout the Impact! Zone between Sting and Abyss, James Mitchell burned Sting's face with a fireball, sending Sting to the hospital. Sting, however, returned to defeat Abyss at Against All Odds in a "Prison Yard" match, and also would once again defeat Abyss at Destination X in a "Last Rites" match. On the March 22 edition of Impact!, Sting teamed with his enemy Abyss to face Christian Cage and A.J. Styles. During the match, Mitchell returned with a woman who Abyss recognized. Abyss then left with Mitchell and the woman, leaving Sting alone to fight Cage and Styles. The following week on Impact!, during a meeting between Sting and James Mitchell, it was revealed that the woman was Abyss' mother, and that she was the one who had actually shot Abyss' father, but Abyss took the blame to protect his mother. Later in the night, it was announced Abyss was added to the Lethal Lockdown match at Lockdown as part of Team Cage while Sting ended up joining Team Angle. At Lockdown, Sting (with the help of Jeff Jarrett) pinned Abyss to win the match and in the process end their bitter rivalry.
Due to his win, he was supposed to be facing Christian Cage for the NWA World Heavyweight Championship at Sacrifice, but the next week on Impact!, Kurt Angle challenged Sting for his number one contendership. After Team Cage interfered in the match, it was revealed that at Sacrifice there would be a three way match for the NWA World Heavyweight Championship between Sting, Kurt Angle, and Christian Cage. In the match, Sting tapped out to the Ankle Lock while pinning Cage (technically making him the first superstar to pin or force Cage to submit in TNA), so the title was vacated. After Christopher Daniels attacked Sting near the end his King of the Mountain qualifying match with Samoa Joe costing him the match, he began a short feud with "The Fallen Angel" Christopher Daniels. At Slammiversary, Sting defeated Christopher Daniels with the Scorpion Death Drop.
After his feud with Daniels, Sting began teaming up with his former enemy, Abyss (who had recently turned face). Together at Victory Road, they defeated A.J. Styles and Tomko. While trying to help Abyss to win a match against A.J. Styles, Sting and Abyss were attacked by Christian's Coalition. Abyss was pulled under the ring and Sting was slammed into broken glass by Tomko, before Abyss emerged bleeding badly and was slammed into the broken glass and thumbtacks. The next week, Sting and Abyss got revenge by defeating Christian and A.J. Styles in a ladder match, in the process earning a contract that allowed them to pick the type of match between Abyss and Christian at Hard Justice. It was announced via TNA mobile that Abyss had selected "Doomsday Chamber of Blood" match. Sting's team won, with his partner Abyss pinning A.J. Styles to become the number one contender for the TNA World Heavyweight Championship. On the August 30 edition of Impact!, Sting defeated Samoa Joe, A.J. Styles, and Christian Cage in a Four-Way match to become the co-holder of the TNA World Tag Team Championship with Kurt Angle. Yet after only thirteen days, Sting and Angle lost the titles to Adam "Pacman" Jones and Ron "The Truth" Killings at No Surrender. During the match, Karen Angle claimed that Sting had slapped her. This led to a falling out between Sting and Kurt Angle and on the first two hour edition of Impact!, Kurt Angle was shown via satellite (kayfabe) stalking and assaulting Sting's son Garrett. It was announced that Sting would face Kurt Angle for the TNA World Heavyweight Championship at Bound for Glory. The match was billed as return to his roots for Sting, who enjoyed enormous popularity and success in the Atlanta based World Championship Wrestling earlier in his career. At Bound for Glory, Sting overcame interference by both Karen Angle and Kevin Nash to pin Kurt Angle after a Scorpion Death Drop to win the TNA World Heavyweight Championship. Sting lost the championship back to Kurt Angle on the October 25 edition of Impact (taped October 16). Sting then challenged Angle to a rematch at Genesis in a tag team match. Angle chose Kevin Nash as his partner, while Sting's partner was a mystery until during the event where his partner was revealed to be Booker T. In the match, whoever scored the pinfall would win the TNA World Championship. Kurt Angle retained the TNA World Championship by pinning Sting. This would be the final TNA appearance of Sting in 2007 as he would take some time off with his family.
On the March 20 edition of Impact!, after a brawl between members of both Team Cage and Team Tomko, a promo aired at the end of the show indicating that Sting would return the next week on the first-ever live Impact! episode. Sting then made his official return on March 27, announcing that he would be a part of Team Cage for the Lethal Lockdown match at Lockdown. Later on the show, he teamed with members of Team Cage (Christian Cage, Kevin Nash, Rhino, and Matt Morgan) and defeated Team Tomko (Tomko, A.J. Styles, James Storm, and Team 3D) in a 5-man tag team match. Morgan was added when James Storm attacked Sting with a glass bottle after the match. Sting, however, later gained revenge by defeating James Storm when Matt Morgan threw him his baseball bat. Morgan then ripped off his referee shirt and revealed a Team Cage shirt, thus becoming the fifth member. At Lockdown, Team Cage defeated Team Tomko when Rhino Gored Storm to get the pinfall.
Sting made his in-ring return to TNA at on July 3 when his music interrupted a fight between Samoa Joe and Kevin Nash at the end of Impact and Sting was seen looking down from the rafters.
Heel Run (2008-present)
At Victory Road, Booker T faced Samoa Joe for the TNA World Title. During the match, Sting tried to talk sense into Joe, as he was brutally beating (kayfabe) Booker T, potentially towards a disqualification. Joe rebuked him, and Sting struck him with his trademark black baseball bat. Over the coming weeks, the feud between Joe and Booker intensified, with episodes ending with Booker T or Sharmell striking Samoa Joe with Sting's trademark bat as Impact! went off the air, leading to a question of whether Sting had turned on Samoa Joe and became a heel (although receiving a face reaction), Sting sided with Booker T. At Hard Justice, Sting attacked A.J Styles after he and Kurt Angle wrestled a Last Man Standing match.
Sting later admitted to why he attacked Joe and Styles by saying that the younger generation needed to learn about respecting veterans like Angle, Booker, and himself. He declared that he wouldn't retire until he had accomplished this mission. This led to mixed fan reactions, and sparked a feud between him and TNA World Heavyweight Champion Samoa Joe, as well as Jeff Jarrett who arrived to aid Samoa Joe and A.J. Styles by giving them his guitar as Sting had done with his bat.
At Bound for Glory IV, Sting challenged Samoa Joe for the TNA World Heavyweight Championship and was successful in claiming the title, after Kevin Nash returned and hit Joe with Sting's baseball bat. On October 23, Sting joined The Main Event Mafia (Kurt Angle, Booker T, Sharmell, Kevin Nash, Scott Steiner, and himself) and by doing so, he fully turned heel for the first time in years since his three victories over Hulk Hogan, shortly after he dropped the "Hollywood Hogan" act in WCW. Even though he is associated with a heel stable, Sting is more accurately described as a tweener since he has not participated in any of the MEM's sneak attacks and beatdowns and still continues to slap high-fives with fans. He has, however, developed a bitter and self-righteous attitude towards younger wrestlers for not showing him or his "fellow legends" the respect that they deserve. He also began omitting his face paint when appearing in non-wrestling roles and wearing a suit and sunglasses. However, he continues to wear the facepaint when wrestling.
At Turning Point, he defeated A.J. Styles to retain the TNA World Heavyweight Championship after interference from The Main Event Mafia. Sting also retained his TNA World Championship in the main event at Final Resolution on December 7.Then, on January 11, Sting defeated Rhino to retain the TNA World Championship at Genesis.
Videos
Sting walks out on WCW.
Sting debuts his new look.
Sting shows his true colors by attacking the nWo.
Sting speaks for the first time in over a year.
Sting joins the nWo Wolfpac.
Other media
Borden appeared in the 1998 film The Real Reason (Men Commit Crimes), the 2000 made-for-TNT film Shutterspeed, and the 2000 film Ready to Rumble. He has also made guest appearances in several television series, including Thunder in Paradise, Walker, Texas Ranger, The Nightmare Room, The Nick Cannon Show, and MADtv. In 2004, a direct-to-video biographical film entitled Sting: Moment of Truth was released. The scripted film features numerous wrestling personalities, with Sting reprising his role as a seasoned wrestler, and Donnie Fallgatter playing the role of Sting as a rookie wrestler. Borden has also hosted the Trinity Broadcasting Network's flagship program Praise the Lord on three separate occasions. On those programs Vince Russo, Shawn Michaels, and Lex Luger were among his guests.
In addition, there are two books that detail his career, Chad Bonham's Wrestling With God (2001) and a collaboration between Sting and George King entitled Sting: Moment of Truth (2004). Moreover, he has several DVDs and VHSs, including Sting: Deadly Venom, Sting: Unmasked, Sting: Back in Black, and Sting: Return of an Icon.
Personal life
He became a born-again Christian in August 1998. Borden is married to Sue and the couple have two sons, Garrett (born 1991) and Steven (born 1992), and a daughter, Grace (born January 2000). The family are Pentecostal Christians.[16] The Borden family is actively involved in Church on the Rock in Santa Clarita, California, where his brother, Jeff, is senior pastor. His son, Garrett, attends Azusa Pacific University and plays on the football team.
In wrestling
Finishing and signature moves
Scorpion Death Drop (Inverted DDT)
Scorpion Deathlock
Belly to back suplex
Diving crossbody
Diving splash
Dropkick
Kneeling belly to belly piledriver - WCW
One-handed bulldog
Snap DDT
Spinebuster
Stinger Splash - Innovated
Signature foreign object
Other Info
"The Icon"
"The Stinger"
"The Franchise of WCW"
"Man Called Sting" by Jimmy Hart (WCW)
"Seek And Destroy" by Metallica (WCW)
"Slay Me" by Dale Oliver (TNA)
"Stingellica" by Dale Oliver (TNA)
Championships and accomplishments
Most Improved Wrestler (1988)
Most Charismatic Wrestler (1988)
5 Star Match: February 24, 1991, WarGames Match, WCW WrestleWar 1991 with Brian Pillman, and The Steiner Brothers vs. Ric Flair, Larry Zbyszko, Barry Windham and Sid Vicious
Best Babyface (1992)
Most Charismatic Wrestler (1992)
5 Star Match: February 24, 1992, WarGames Match, WrestleWar 1992 with Nikita Koloff, Ricky Steamboat, Barry Windham, & Dustin Rhodes vs. Rick Rude, Steve Austin, Arn Anderson, Bobby Eaton, & Larry Zbyszko
Match of the Year (1998) vs. Ric Flair
1Sting is a 2 time NWA World Heavyweight Champion, however his first run as champion was while the title was commisioned by World Championship Wrestling, while his second title run was while the title was commisioned by Total Nonstop Action Wrestling.
Ric Flair also commented that the only thing that sting did wrong in his carrear is that he never went to Vince McMahon
See also
External links and references
Community content is available under
CC-BY-SA
unless otherwise noted.