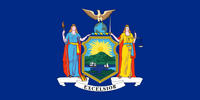 New York is a state in the Northeastern region of the United States. It is the nation's third most populous state. New York is bordered by New Jersey and Pennsylvania to the south, and by Connecticut, Massachusetts and Vermont to the east. The state has a maritime border with Rhode Island east of Long Island, as well as an international border with the Canadian provinces of Ontario to the north and west, and Quebec to the north. The state of New York is often referred to as New York State to distinguish it from the city of New York.
New York City, with a population of over 8,000,000 people, is the most populous city in the United States. It is known for its status as a financial, cultural, transportation, and manufacturing center, and for its history as a gateway for immigration to the United States. According to the U.S. Department of Commerce, it is also a destination of choice for many foreign visitors. Both state and city were named for the 17th century Duke of York, James Stuart, future James II and VII of England and Scotland.
Cities
Arenas
Events
Promotions
Wrestlers
External Links
Community content is available under
CC-BY-SA
unless otherwise noted.