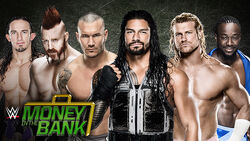 Winning the Money in the Bank Ladder Match can change a Superstar's career, instantly launching him into the WWE World Heavyweight Championship picture. The likes of Edge, Daniel Bryan and Seth Rollins have graduated from future star to WWE World Heavyweight Champion, thanks to the contract.
On June 14 at Columbus, Ohio's Nationwide Arena, six Superstars — Dolph Ziggler, Kofi Kingston, Neville, Randy Orton, Roman Reigns and Sheamus — have been announced for the battle to secure WWE's equivalent of a winning lottery ticket, earning a future date anytime, anywhere with the champion.
With two former Money in the Bank winners and three former World Champions in the field, a new face could take a massive step toward his first WWE World Heavyweight Championship.
Ziggler won the briefcase in 2012 and cashed in the night after WrestleMania 29, but a concussion abruptly cut his long-awaited World Heavyweight Title reign short. Two years after his dream reign turned into a nightmare, Ziggler can finally right that wrong.
Kingston always wows the WWE Universe and his competition with his in-match acrobatics and improvisation with a ladder. But after five appearances, the eight-year WWE veteran has never competed one-on-one for a World Championship.
WWE's newest Superstar, Neville knows plenty about Ladder Matches, considering he captured the NXT Championship in one. Despite a lack of experience, The Man That Gravity Forgot aims to stun his much more seasoned competition.
With three Money in the Bank appearances under his belt, Orton knows the dangerous bout as well as anyone. He followed his lone win in 2013 by joining The Authority and unifying the WWE and World Heavyweight Championships.
Reigns had to watch "Mr. Money in the Bank" Rollins leave WrestleMania 31 with the WWE World Heavyweight Championship, stealing his storybook moment. Money in the Bank 2015 represents his first step in rewriting history.
A three-time WWE Champion, King of the Ring and Royal Rumble Match winner, Sheamus hopes to add another accolade to his resume with a Money in the Bank victory — while also proving WWE is the "land of the giants."
See also
Community content is available under
CC-BY-SA
unless otherwise noted.