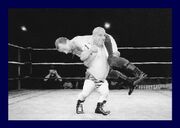 A midget professional wrestler is a dwarf or person of short stature who competes in professional wrestling. Midget is also a designation given to the 9-10 year old age division in the U.S. Wrestling Association.
Pro Wrestling Illustrated presented a Midget Wrestler of the Year award annually from 1972 to 1976. Notable midget wrestlers include Sky Low Low (Marcel Gauthier) who was the National Wrestling Alliance's first World Midget Champion, Little Beaver (Lionel Giroux), Lord Littlebrook, and Fuzzy Cupid, all of whom have been inducted into the Professional Wrestling Hall of Fame. Other midget wrestlers include Cowboy Lang and "Wee" Willie Wilson from Georgia, The Haiti Kid (also known as Little Mr. T), Little Tokyo, Little Brutus, and Billy the Kid. There have been fewer female midget wrestlers, but Diamond Lil, Darling Dagmar, and Princess Little Dove are the best known of them.
Despite the acclaim of some midget wrestlers, midget wrestling is rarely taken as seriously as other forms of professional wrestling, and is thought to be a holdover from earlier wrestling's vaudeville origins, where comedy was as important as athletics, as well as from wrestling's carny origins, where a premium was placed on the visually unusual.
Some folklore has surrounded midget wrestling's heyday in the 1950s and 1960s. One persistent story is that André the Giant once simultaneously wrestled some number (often given as five or six) midget wrestlers.
Competitive midget wrestling declined sharply in the United States in the 1990s, though it remains popular in Mexican wrestling. Midget wrestlers show up in professional wrestling in the United States often only as miniature versions of existing wrestling stars, such as Dink the Clown to Doink the Clown, Mini Dust who looked like Goldust, and others who are used during promos more than matches.
During the early 21st century, Midget wrestling began a resurgence in American wrestling with divisions in mayor promotions dedicated to midgets fueled all midget promotions. The most well known instances of this came in the early days of NWA:TNA in 2002, where the promotion featured a "Hardcore Midget" division. In 2005, World Wrestling Entertainment (WWE) announced the creation of a "Juniors" division within their SmackDown! brand, which consisted of wrestlers at or below 5 feet tall but was discontinued in March 2006.
The most recent, is Hornswoggle, who was signed to World Wrestling Entertainment. He is the son of Finlay.
External links