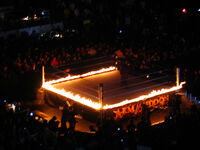 The Inferno match is a type of professional wrestling match, occasionally seen in World Wrestling Entertainment. There have been only four instances of this kind of match since its introduction in 1998. The objective of the match is to set the opponent on fire in any way. To accomplish this, the ring is surrounded by fire, carefully controlled by pyrotechnicians. There is no referee in the ring during the match. The match type is closely related to the in-ring gimmick of Kane (Kane believed himself at one point to have suffered permanent facial scarring in a horrible fire when he was young) which it turned out he wasn't scarred in any way.
Wrestlers protect themselves from harm by wearing special fire-retardant padding under their costumes. Inferno matches are very rare today because of health concerns and because of state sports commissions expressing concern over safety. The Undertaker once said in an interview that it was impossible to breathe properly in the ring when the flames were on as they burned most of the oxygen up. WWE.com calls the Inferno match "possibly the sickest of all WWE matches."
History of Inferno match
No.
Match
Event, date and location
I
The Undertaker defeated Kane (15:57)
by setting his arm on fire.
WWF Unforgiven
April 26, 1998, Greensboro, North Carolina
II
The Undertaker defeated Kane (6:45)
by setting his foot on fire.
WWF RAW is WAR
February 22, 1999, Chattanooga, Tennessee
III
Triple H defeated Kane (3:01)
by having his hand set on fire by Viscera and Mideon.
WWF SmackDown!
September 23, 1999, Dallas, Texas
IV
Kane defeated Montel Vontavious Porter (8:21)
by setting his back on fire.
WWE Armageddon 2006
December 17, 2006, Richmond, Virginia
Trivia
Kane has competed in every Inferno match to date, with a win-loss record of 1-3.
Kane competed in the first Inferno match on his birthday, April 26 in Greensboro, North Carolina.
Armageddon 2006 was the first Inferno match to occur after Kane had been unmasked.
Every Inferno Match has ended with the losing wrestler being set on fire, outside the ring. This is so that the wrestler can quickly escape to the back to be extinguished.
Similar matches have happened at WCW's Great American Bash 2000 and WWE 's SummerSlam 2013. The first being between Vampiro and Sting, which was called a Human Torch match. The second was a Ring of Fire match between Kane and Bray Wyatt .
An Inferno match has not happened in the WWE since it has turned to PG.
External links
Community content is available under
CC-BY-SA
unless otherwise noted.