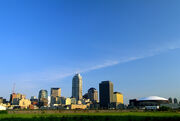 Indiana is a US state, admitted to the United States as the 19th on December 11, 1816. It is located in the Midwestern United States and Great Lakes Region. With 6,483,802 residents, the state is ranked 15th in population and 16th in population density. Indiana is ranked 38th in land area and is the smallest state in the continental US west of the Appalachian Mountains. Its capital and largest city is Indianapolis, the second largest of any state capital and largest state capital east of the Mississippi River.
Before it became a territory, varying cultures of indigenous peoples and historic Native Americans inhabited Indiana for thousands of years. Angel Mounds State Historic Site, one of the best preserved ancient earthwork mound sites in the United States, can be found in Southwestern Indiana near Evansville.
Arenas and venues
Cities
Events
Promotions
Wrestlers
External Links
Community content is available under
CC-BY-SA
unless otherwise noted.