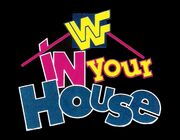 In Your House was a pay-per-view series created by the World Wrestling Federation. The original concept was that, in months when the WWF was not running one of its major PPV events (WrestleMania, King of the Ring, SummerSlam, Survivor Series, and Royal Rumble, which at the time ran for three hours and retailed for $29.95), they would offer a two-hour PPV, priced at $19.95. This concept was somewhat abandoned when World Championship Wrestling (WCW) began offering three-hour PPV events on a monthly basis, forcing the WWF to do the same.
The events were numbered, as In Your House #1, #2, and so on, until event specific subtitles were added, such as "It's Time" (Vader's catchphrase), "Buried Alive" (describing the main event match), "A Cold Day In Hell" (contrasting gimmicks of main eventers Steve Austin and The Undertaker), "Rock Bottom" (The Rock's finishing move and the decline of his opponent Mankind), "In Your House St. Valentine's Day Massacre" (a violent event taking place in February and the PPV happened on Valentine's Day), and many others. Gradually the subtitles became main titles (whereas the PPV was not named In Your House: Fully Loaded but Fully Loaded: In Your House), until the regular named shows took over, with the current No Way Out, Backlash, Judgment Day and Unforgiven stemming from them.
The WWF gave away a brand-new house in the Hunter's Creek subdivision area in Orlando, Florida on the first PPV to a randomly selected fan. Newsboards reported the teenager and his family sold the house a few years later to pay for college and because taxes were too high.
In Your House dates and venues
Event
Date
City
Venue
In Your House 1: Premiere
May 14, 1995
Syracuse, New York
Onondaga County War Memorial
In Your House 2: The Lumberjacks
July 23, 1995
Nashville, Tennessee
Nashville Municipal Auditorium
In Your House 3: Triple Header
September 24, 1995
Saginaw, Michigan
Saginaw Civic Center
In Your House 4: Great White North
October 22, 1995
Winnipeg, Manitoba
Winnipeg Arena
In Your House 5: Season's Beatings
December 17, 1995
Hershey, Pennsylvania
Hersheypark Arena
In Your House 6: Rage in the Cage
February 18, 1996
Louisville, Kentucky
Louisville Gardens
In Your House 7: Good Friends, Better Enemies
April 28, 1996
Omaha, Nebraska
Omaha Civic Auditorium
In Your House 8: Beware of Dog
May 26, 1996
Florence, South Carolina
Florence Civic Center
In Your House 8: Beware of Dog 2
May 28, 1996
North Charleston, South Carolina
North Charleston Coliseum
In Your House 9: International Incident
July 21, 1996
Vancouver, British Columbia
General Motors Place
In Your House 10: Mind Games
September 22, 1996
Philadelphia, Pennsylvania
CoreStates Center
In Your House 11: Buried Alive
October 20, 1996
Indianapolis, Indiana
Market Square Arena
In Your House 12: It's Time
December 15, 1996
West Palm Beach, Florida
West Palm Beach Auditorium
In Your House 13: The Final Four
February 16, 1997
Chattanooga, Tennessee
UTC Arena
In Your House 14: Revenge of the 'Taker
April 20, 1997
Rochester, New York
War Memorial Auditorium
In Your House 15: A Cold Day in Hell
May 11, 1997
Richmond, Virginia
Richmond Coliseum
In Your House 16: Canadian Stampede
July 6, 1997
Calgary, Alberta
Saddledome
In Your House 17: Ground Zero
September 7, 1997
Louisville, Kentucky
Louisville Gardens
In Your House 18: Badd Blood
October 5, 1997
St. Louis, Missouri
Kiel Center
In Your House 19: D-Generation X
December 7, 1997
Springfield, Massachusetts
Springfield Civic Center
In Your House 20: No Way Out of Texas
February 15, 1998
Houston, Texas
Compaq Center
In Your House 21: Unforgiven
April 26, 1998
Greensboro, North Carolina
Greensboro Coliseum
In Your House 22: Over the Edge
May 31, 1998
Milwaukee, Wisconsin
Wisconsin Center Arena
In Your House 23: Fully Loaded
July 26, 1998
Fresno, California
Selland Arena
In Your House 24: Breakdown
September 27, 1998
Hamilton, Ontario
Copps Coliseum
In Your House 25: Judgment Day
October 18, 1998
Rosemont, Illinois
Allstate Arena
Rosemont Horizon
In Your House 26: Rock Bottom
December 13, 1998
Vancouver, British Columbia
General Motors Place
In Your House 27: St. Valentine's Day Massacre
February 14, 1999
Memphis, Tennessee
The Pyramid
In Your House 28: Backlash
April 25, 1999
Providence, Rhode Island
Providence Civic Center
See also
External links
Community content is available under
CC-BY-SA
unless otherwise noted.