Heath Miller (July 15, 1983) is an American professional wrestler working for WWE under the ring name Heath Slater. He was a contestant in the first season of WWE NXT, where he finished fourth. He is a former FCW Florida Heavyweight Champion and three–time WWE Tag Team Champion with Justin Gabriel.
Childhood
Heath grew up in Pineville, West Virginia. At fourteen years old, Heath Slater attended the WCW's tenth annual Starrcade (Starrcade 1997) and was featured on TV combing his unique head of red hair.
Career
WWA4 Pro Wrestling School (2004–2006)
Miller trained under Curtis Hughes at the WWA4 Pro Wrestling School in Atlanta, Georgia before debuting in August 2006. While training, he appeared on a two-part episode on the sketch comedy show Blue Collar. He soon began competing in Northeastern independent promotions, including NWA Wildside. While wrestling for NWA Wildside, Miller won the GCW Columbus Heavyweight Championship after defeating Scotty 2 Hotty.
World Wrestling Entertainment (2006–present)
Developmental territories
In December 2006, Miller signed a developmental contract with WWE and was assigned to its Deep South Wrestling (DSW) territory in Atlanta, Georgia. When the WWE ended its relationship with DSW in the spring of 2007, WWE created Florida Championship Wrestling in Tampa, Florida to be run by retired wrestler Steve Keirn. Miller was one of over twenty developmental wrestlers to relocate from Atlanta to Tampa for further training. At a June 2007 FCW show, Miller appeared as the manager of fellow developmental talent Shawn McGrath under the name "Heath Wallace Miller Esq." Since then, Miller has returned to using his real name and competes as a wrestler as well as McGrath's manager.
In 2007, Miller was given a talk show called the "Happy Hour" during some FCW shows. During one segment, Billy Kidman was the guest; Miller claimed to idolize Kidman but then commented that Kidman's career was declining. This created a feud and led to a series of matches between the two. In January 2008, Miller started defending the FCW Southern Heavyweight Championship on behalf of the champion Ted DiBiase, Jr., who was injured. DiBiase soon forfeited the belt and Miller was declared the champion.
Miller and his tag team partner Steve Lewington lost to John Morrison and The Miz for the WWE Tag Team Championship on February 15, 2008 at a Florida Championship Wrestling show.
Miller and his partner Steve Lewington advanced to the finals of a tournament for the inaugural FCW Florida Tag Team Championship in February 2008. Miller and Lewington defeated Brandon Groom and Greg Jackson and The Thoroughbreds (Johnny Curtis and Kevin Kiley) to reach the finals. On February 23, 2008, Miller and Lewington lost to The Puerto Rican Nightmares (Eddie Colón and Eric Perez) in the finals. On September 11, teaming with Joe Hennig, he won the FCW Florida Tag Team Championship. As champion, he would change his ring name to "Sebastian Slater". On October 30, 2008, Slater and Hennig lost their tag titles to The New Hart Foundation (Harry Smith and TJ Wilson) in Tampa, Florida. He returned from injury in the 26 episode of FCW where he defeated Justin Angel. On August 13, 2009, at the 50th FCW TV taping, Miller defeated Tyler Reks to become FCW Heavyweight Champion. Miller lost the FCW Heavyweight Championship to Justin Angel in a "best two out of three falls" match at the September 24, 2009 TV taping. On October 5, 2009, Slater competed in a dark match before an edition of Raw against Jamie Noble and cut a promo before the match saying that WWE was "starting out with the best" and insulting the crowd, Slater went on to lose the match.
NXT and The Nexus
On February 16, 2010, Slater was announced as one of eight FCW wrestlers to compete on the first season of the WWE NXT show, with Christian as his storyline mentor. On the inaugural episode of NXT, Slater won his debut match as he and Christian defeated Carlito and Michael Tarver in a tag team match. Two weeks later, Slater defeated Carlito, becoming the first NXT rookie to beat a WWE pro in a singles match. On the March 30 episode of NXT he came fourth out of eight rookies in the first Pros' Poll. On the April 6 episode, Slater won a keg-carrying contest against all other rookies. This resulted in him being in the main event that night, a match against Kane, that he lost. In an upset victory on April 20, Slater defeated Chris Jericho in the main event of NXT. However, Slater remained at fourth in the second Pros Poll, revealed on May 11. He was eliminated from NXT on May 25, coming in last in the Pros' Poll.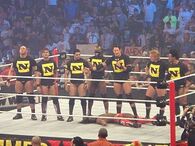 On the June 7, 2010 edition of
Raw
, Slater turned
heel
and along with the other
NXT
season one rookies interfered in the main event match between
John Cena
and
CM Punk
, attacking both competitors as well as the announcing team before dismantling the ring area and surrounding equipment. On the June 28 edition of
Raw
, the group was named
The Nexus
. On the October 25 edition of
Raw
, Slater and fellow Nexus member, Justin Gabriel won the
WWE Tag Team Championship
from their stable mates
David Otunga
and John Cena, when the group's leader
Wade Barrett
ordered Otunga to lay down for the better of the team. After the match, Slater and Gabriel went on to celebrate as Barrett announced that from then on,
Husky Harris
and
Michael McGillicutty
were official members of the Nexus. On the
December 6, 2010 episode of Raw
, Slater and Gabriel lost the
WWE Tag Team Championship
to the team of
Vladimir Kozlov
and
Santino Marella
due to an outside distraction from John Cena. On the
January 10, 2011, edition of Raw
Slater and Gabriel refused to take part in new Nexus leader CM Punk's initiation and walked away from the group.
SmackDown and The Corre (2011)
At the January 11, 2011, tapings of the January 14 edition of SmackDown, Slater and Gabriel made a jump to the brand, joining their former leader Wade Barrett and Ezekiel Jackson and beating down Big Show. One week later, Barrett named the group The Corre, and later that night Gabriel defeated World Heavyweight Champion Edge in a non-title match, following interference from the rest of the Corre. After winning a non-title match against the champions Kozlov and Marella on the February 4 episode of SmackDown, Gabriel and Slater received a match for the WWE Tag Team Championship two weeks later, but lost via disqualification when the members of The Corre interefered. They received a rematch at Elimination Chamber on February 20 and defeated Kozlov and Marella to win the WWE Tag Team Championship for a second time.
The following night on Raw, Gabriel and Slater lost the Tag Team Championship to John Cena and The Miz, but won the championship back minutes later when Barrett invoked The Corre's rematch clause, and The Miz turned on Cena. The Corre began a feud with Big Show, and at WrestleMania XXVII the team of the Big Show, Kane, santino Marella and Kofi Kingston defeated The Corre. At the April 19 tapings of SmackDown, the duo of Gabriel and Slater lost the Tag Team Championship to the team of Kane and the Big Show. In a backstage segment following the match, Gabriel was attacked by Slater, who thought Gabriel blamed him for their loss. On the May 6 episode of SmackDown, Gabriel, Barrett and Slater attacked Jackson, removing him from the group. Barrett walked out on Gabirel and Slater in a 6-man tag team match against Jackson and The Usos on the June 10 edition of SmackDown. This led to Gabirel and Slater telling Barrett that The Corre was over.
Gabriel and Slater started a feud with The Usos. On the June 17 edition of SmackDown, Gabriel and Slater were defeated by The Usos. On the June 17 edition of SmackDown, Gabriel and Slater were defeated by The Usos, later defeating them in a rematch on the June 24 edition. The next day he together with Gabirel were announced for the SmackDown Money in the Bank match in Chicago, Illinois. They were again defeated by the Usos on the July 8 edition, having a visible disagreement and argument in the ring following the match. On the July 15 edition of SmackDown, Slater started a feud with Gabriel when he verbally berated him saying that Gabriel was holding him down. That same night, Slater lost to Gabriel after receiving a 450 Splash. At Money in the Bank, he and Gabriel participated in the Money in the Bank Ladder match, which was won by Daniel Bryan. On October 17, slater was suspended due to a wellness violation for 30 days.
Feud with the Legends (2012)
From the June 11 episode of Raw, Slater toned down his lower-card status when he began competing in matches and segments involving WWE veterans returning to Raw to build up to Raw's 1000th episode on July 23, succumbing to the likes of Vader, Sycho Sid, Roddy Piper, Wendi Richter and Cyndi Lauper, though he managed to defeat Doink the Clown on the July 2 episode of Raw. after the match Diamond Dallas Page came out to the ring and shook Slater's hand, appearing to congratulate him, before giving him the Diamond Cutter. On the July 9 episode of Raw, after losing a match, Bob Backlund came out to the ring and after a few moments of playing up to the crowd and suffering a cheap shot from Slater, Backlund applied the Crossface Chickenwing to make Slater submit. On July 12 at an NXT taping at Full Sail University, Scotty 2 Hotty defeated Slater using the Worm. On the July 16 episode of Raw, Slater lost to Rikishi. On the July 20 episode of SmackDown, Slater lost to Road Warrior Animal. On Raw 1000, he lost to Lita, with help from The APA and all of the legends that Slater had lost to in the preceding weeks on Raw.
3MB (2012-2014)
On the September 23 episode of SmackDown, Drew McIntyre and Jinder Mahal interfered in Slater's match against Brodus Clay by attacking Clay. The trio later settled for the name Three Man Band, or 3MB for short. Slater would then go on to become the brash and confident leader of 3MB. From October 2012, 3MB raked up many wins against Team Co-Bro (Santino Marella and Zack Ryder) and The Usos, all of them due to illegal interference. At the TLC pay-per-view, 3MB's winning streak came to an end at the hands of The Miz, Alberto Del Rio and the Brooklyn Brawler. The next night at the Slammy Awards show, 3MB lost again to Miz, Del Rio and Tommy Dreamer. Drew McIntyre and Jinder Mahal often interfere in Slater's matches at Slater's bahest, defending the leader of the trio. On the 20th Anniversary of Raw on January 14, 2013, 3MB won an over the top challenge against Sheamus. Slater and McIntyre represented 3MB in the NXT Tag Team Championship tournament to crown the inaugural champions, but were defeated in the first round by Adrian Neville and Oliver Grey on the January 23 episode of NXT. He participated in the Royal Rumble coming from number 10 and being eliminated by John Cena. On the April 12 edition of SmackDown, Slater along with the rest of 3MB, attempted to ambush Triple H as he was addressing Brock Lesnar, however The Shield came out and attacked them. On the April 15 Raw, 3MB called out The Shield but instead it was Brock Lesnar who came out and attacked the three of them, delivering the F-5 on Slater twice on the barricade. On the April 29 episode of Raw, 3MB attacked The Shield, but The Shield quickly turned the tables on them. Team Hell No came to the ring, seemingly to aid 3MB, but The Shield escaped and Team Hell No attacked 3MB instead.
On the November 11 episode of Raw, while on tour in the UK, 3MB changed their name to The Union Jacks, but were defeated by santino Marella and Los Matadores. On the November 13 edition of Main Event, Slater and McIntyre would defeat The Prime Time Players. On the November 15 episode of SmackDown, The Union jacks were defeated by R-truth and The Prime Time Players. On the County Music edition of Raw on November 18, 3MB competed as the Rhinestone Cowboys in which McIntyre and Mahal lost to R-Truth and the debuting Xavier Woods in Nashville. Similarly, this trend of name changes continued to amount the groups loses as they also lost to The Primetime Players on SmackDown, as The Fabulous 3Birds, which was a play on the legendary tag team The Fabulous Freebirds. On the November 29 episode of SmackDown, they were billed as the Plymouth Rockers, a play on The Rockers tag team, even coming out to The Rockers' entrance music, and faced Los Matadores, along with their mascot, El Toriito in a losing effort. Shortly after the match, Slater took time off from WWE to deal with personal issuses. He returned on the January 6, 2014 episode of Raw, which saw 3MB defeated by Rikishi and Too Cool.   On April 4, Slater broke his losing streak, picking up the win against Kofi Kingston on WWE Superstars. At WrestleMania XXX, all three members entered the Andre the Giant Memorial Battle Royal and eliminated both The Great Khali and Xavier Woods as a unit, before all three were eliminated by Mark Henry. After WrestleMania, 3MB entered a feud with Los Matadores, which saw Hornswoggle ally himself with the trio so as to feud with El Torito. 3MB won their first match since December 2012 after Slater and McIntyre beat Los Matadores on the April 28 edition of Raw.
On June 12, both Jinder Mahal and Drew McIntyre were released from their WWE contracts, thus disbanding 3MB.
Singles competition (2014)
On the June 16, 2014 episode of Raw, Slater stood up to Rusev and Lana by responding to their anti-America promos. However, he was quickly defeated by Rusev, who applied the Accolade on Slater to get the win. On the June 26 episode of Superstars, Slater remained a heel where he faced Adam Rose in a losing effort. On the July 11 episode of SmackDown, Slater teamed up with Titus O'Neil to face The Usos, in which Jimmy Uso and Jey Uso won the match. At Battleground, Slater competed in a battle royal for the vacant WWE Intercontinental Championship; Slater did not win the match, but managed to eliminate Cesaro in upset fashion and received the biggest ovation from the crowd in his career, before he was then quickly eliminated by Sheamus. On the July 21 episode of Raw, Slater confronted Flo Rida about their previous confrontation at WrestleMania 28. This resulted in Flo Rida once again pushing Slater to the ground.
Slater Gator (2014-)
Slater started to team up with Titus O'Neil and mostly they lost against their opponents.on the August 1 episode of Superstars Slater and Titus picked up their first win as a tag team defeating Sin Cara and Zack Ryder.
In wrestling
Championships and accomplishments
See also
External links

WWE Roster

Raw
Akira Tozawa • Aleister Black • Andrade • Angel Garza • Angelo Dawkins • Apollo Crews • Asuka • Becky Lynch • Bianca Belair • Big Show • Billie Kay • Bobby Lashley • Brendan Vink • Brock Lesnar • Buddy Murphy • Cedric Alexander • Charlotte Flair • Dolph Ziggler • Drew McIntyre • Erik • Humberto Carrillo • Ivar • Jinder Mahal • John Cena • Keith Lee • Kevin Owens • Lana • Liv Morgan • Mandy Rose • Mickie James • Mojo Rawley • Montez Ford • Mustafa Ali • MVP • Natalya • Nia Jax • Peyton Royce • R-Truth • Randy Orton • Rey Mysterio • Ricochet • Riddick Moss • Robert Roode • Ronda Rousey • Ruby Riott • Samoa Joe • Seth Rollins • Shane Thorne • Shayna Baszler • Shelton Benjamin • Stephanie McMahon • Titus O'Neil • Zelina Vega
SmackDown
A.J. Styles • Alexa Bliss • Baron Corbin • Bayley • Big E • Bo Dallas • Braun Strowman • Bray Wyatt • Carmella • Cesaro • Chad Gable • Dana Brooke • Daniel Bryan • Drew Gulak • Elias • Ember Moon • Gran Metalik • Jaxson Ryker • Jeff Hardy • Jey Uso • Jimmy Uso • John Morrison • Kalisto • Kofi Kingston • Lacey Evans • Lars Sullivan • Lince Dorado • Maryse • Matt Riddle • Naomi • Nikki Cross • Otis • Paige • Roman Reigns • Sami Zayn • Samir Singh • Sasha Banks • Sheamus • Shinsuke Nakamura • Sonya Deville • Steve Cutler • Sunil Singh • Tamina • The Miz • Tucker • Wesley Blake • Xavier Woods
NXT
Adam Cole • Aliyah • Austin Theory • Babatunde Aiyegbusi • Bobby Fish • Bronson Reed • Cameron Grimes • Candice LeRae • Damian Priest • Danny Burch • Dakota Kai • Dexter Lumis • Dominik Dijakovic • Drake Maverick • Eric Bugenhagen • Fabian Aichner • Fandango • Finn Bálor • Io Shirai • Isaiah Scott • Jake Atlas • Jessamyn Duke • Joaquin Wilde • Johnny Gargano • Kacy Catanzaro • Karrion Kross • Kavita Devi • Kayden Carter • Killian Dain • Kona Reeves • Kyle O'Reilly • KUSHIDA • Marina Shafir • Mercedes Martinez • Mia Yim • Oney Lorcan • Pete Dunne • Raquel González • Raul Mendoza • Rhea Ripley • Roderick Strong • Santana Garrett • Santos Escobar • Scarlett • Shane Thorne • Shotzi Blackheart • Tegan Nox • Timothy Thatcher • Tommaso Ciampa • Trent Seven • Tyler Bate • Tyler Breeze • Vanessa Borne • Velveteen Dream • Xia Li
205 Cruiserweights
Ariya Daivari • Noam Dar • Oney Lorcan • Raul Mendoza • The Brian Kendrick • Tony Nese
NXT UK
Alexander Wolfe • Amir Jordan • Aoife Valkyrie • Ashton Smith • Dakota Kai • Dave Mastiff • Eddie Dennis • Fabian Aichner • Flash Morgan Webster • Ilja Dragunov • Isla Dawn • James Drake • Jinny • Joe Coffey • Joseph Conners • Jordan Devlin • Kay Lee Ray • Kenny Williams • Killer Kelly • Marcel Barthel • Mark Andrews • Mark Coffey • Mike Hitchman • Nina Samuels • Noam Dar • Pete Dunne • Sam Gradwell • Saxon Huxley • Toni Storm • Trent Seven • Tyler Bate • Tyson T-Bone • WALTER • Wolfgang • Xia Brookside • Zack Gibson
Stables & Tag Teams
Alexa Bliss & Nikki Cross • Breezango • Brendan Vink & Shane Thorne • Gallus • Heavy Machinery • Imperium • Legado Del Fantasma • Lucha House Party • Moustache Mountain • Street Profits • The Forgotten Sons • The Hurt Business • The New Day • The Singh Brothers • The Usos • The Undisputed Era • The Viking Raiders
Commentators & Interviewers
Alyse Ashton • Byron Saxton • Carlos Cabrera • Charly Caruso • Corey Graves • Cathy Kelley • Kayla Braxton • Marcelo Rodríguez • Michael Cole • Nigel McGuinness • Sarah Schreiber • Tom Phillips • Vic Joseph
Ring announcers
Greg Hamilton (SmackDown) • Mike Rome (Raw) • Alicia Taylor (NXT)
Referees
Aja Smith • Chad Patton • Charles Robinson • Dan Engler • D.A. Brewer • Danilo Anfibio • Darrick Moore • Darryl Sharma • Drake Wuertz • Eddie Orengo • Jason Ayers • Jessika Carr • John Cone • Shawn Bennett • Rod Zapata • Ryan Tran
Pre-Show Panel
Booker T • David Otunga • Jonathan Coachman • Pete Rosenberg • Sam Roberts
NXT Trainers
Matthew Bloom • Norman Smiley • Robbie Brookside • Sara Del Rey • Shawn Michaels • Terry Taylor
General Managers
Shane McMahon (Smackdown) • Stephanie McMahon (Raw) • William Regal (NXT) • Johnny Saint (UK Brand)

Current Champions

WWE Championship
Drew McIntyre

WWE Universal Championship

Roman Reigns

WWE Intercontinental Championship

Jeff Hardy
WWE United States Championship
Bobby Lashley
WWE Raw Tag Team Championship
Street Profits (Angelo Dawkins & Montez Ford)
WWE SmackDown Tag Team Championship
Cesaro & Shinsuke Nakamura
WWE Women's Tag Team Championship
Nia Jax & Shayna Baszler
WWE Raw Women's Championship
Asuka

WWE SmackDown Women's Championship

Bayley

WWE 24-7 Championship

R-Truth

WWE NXT Championship

Finn Bálor
NXT North American Championship
Damian Priest

NXT Cruiserweight Championship

Santos Escobar
NXT Tag Team Championship
Breezango (Fandango & Tyler Breeze)

NXT Women's Championship

Io Shirai

NXT UK Championship

WALTER

NXT UK Women's Championship

Kay Lee Ray
NXT UK Tag Team Championship
Wolfgang & Mark Coffey
Community content is available under
CC-BY-SA
unless otherwise noted.