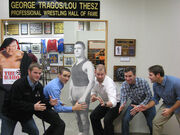 The
George Tragos/Lou Thesz Professional Wrestling Hall of Fame
is a pro wrestling hall of fame and museum located within the Dan Gable International Wrestling Institute and Museum in Waterloo, Iowa. It is run by wrestling historian and journalist Mike Chapman. The hall of fame recognizes professional wrestlers who also have a background in amateur wrestling.
Formerly located in Newton, Iowa, the Hall of Fame moved to Waterloo in 2007. The building suffered severe flooding in 2008, but has since been repaired.
Special Awards
Frank Gotch Award
First presented in 2000, the award recognizes individuals is wrestling for bringing positive recognition to professional wrestling through work outside the ring.
James C. Melby Award
First presented to Jim Melby himself in 2006, this award recognizes excellence in professional wrestling journalism.
Lou Thesz Award
First presented in 2007, this award is given to an individual in wrestling who has taken the skills of professional wrestling into the realm of public service.
George Tragos Award
First presented in 2011, the award is given to an exceptionally competitive wrestler who has adapted his wrestling skills and competitive nature to excel in Mixed Martial Arts.
Inductees & Honorees
See also
External Links
Community content is available under
CC-BY-SA
unless otherwise noted.