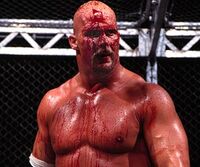 The
First Blood match
is a
professional wrestling
hardcore-style
match, the winner of which is the first to make their opponent bleed. Wrestlers rarely "juice
hardway
" in such a match - instead the match is generally booked so as to have the loser perform a blade job (cut themself).
The first First blood match to take place in the WWE was for the WWE Championship and occurred between Steve Austin and Kane at King of the Ring. Kane, who at the time was still wearing his mask and full outfit, was the underdog in the match (kayfabe) and had said that if he lost, he would set himself on fire. In the end, Austin's face became bloodied and the title went to Kane, thus ending Austin's first WWE Championship reign.[1]
First blood Matches in World Wrestling Federation/Entertainment
No.
Match
Event, Date and Location
I
Kane defeated Stone Cold Steve Austin to win the WWF Championship

King of the Ring
June 28, 1998, Pittsburgh, Pennsylvania
II
Stone Cold Steve Austin defeated The Undertaker to retain the WWF Championship
Fully Loaded
July 25, 1999, Buffalo, New York
III
Chris Jericho defeated Ken Shamrock
WWF SmackDown!
September 23, 1999, Dallas, Texas
IV
X-Pac defeated Chris Jericho
WWF RAW is WAR
September 25, 2000, State College, Pennsylvania
V
Kane and The Undertaker defeated Haku & Rikishi
WWF SmackDown!
February 1, 2001, Columbus, Ohio
VI
Booker T defeated Stone Cold Steve Austin
WWF SmackDown!
December 18, 2001, New Orleans, Louisiana
VII
Kurt Angle defeated John Cena
WWE RAW
January 2, 2006, East Rutherford, New Jersey
VIII
Mr. Kennedy defeated The Undertaker
Survivor Series
November 26, 2006, Philadelphia, Pennsylvania
IX
John Cena defeated JBL
One Night Stand
June 1, 2008, San Diego, California
First blood Matches in World Championship Wrestling
No.
Match
Event, Date and Location
I
Ric Flair defeated Hollywood Hogan to win the WCW World Heavyweight Championship (Steel cage match)
Uncensored
March 14, 1999, Louisville, Kentucky
II
Sting fought Vampiro to the no-contest
WCW Monday Nitro
April 24, 2000, Rochester, New York
III
The Harris Brothers (Ron and Don) defeated KroniK (Brian Adams and Bryan Clark) (Chain match)
Fall Brawl
September 17, 2000, Buffalo, New York
IV
Buff Bagwell defeated David Flair
Halloween Havoc
October 29, 2000, Las Vegas, Nevada
V
Shane Douglas defeated General Rection to win the WCW United States Championship (Chain match)
Sin
January 14, 2001, Indianapolis, Indiana
First blood Matches in Extreme Championship Wrestling
First blood Matches in Total Nonstop Action Wrestling/Impact Wrestling
No.
Match
Event, Date and Location
I
Malice defeated Don Harris
NWA-TNA Weekly PPV #8
August 7, 2002, Nashville, Tennessee
II
Kid Kash defeated Abyss (Chain on a Pole match)
NWA-TNA Weekly PPV #69
October 29, 2003, Nashville, Tennessee
III
The Outlaw defeated Kevin Nash
Destination X
March 13, 2005, Orlando, Florida
IV
Eddie Edwards defeated Killer Kross
Slammiversary XVII
July 7, 2019, Dallas, Texas
First blood Matches in Ring of Honor
External links
Community content is available under
CC-BY-SA
unless otherwise noted.