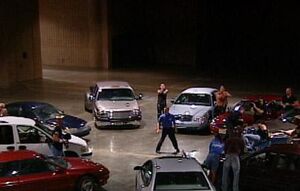 The "Falls Count Anywhere" match is a match where pinfalls or submission can take place in any location, negating the standard rule that they must take place inside the ring and between the ropes. As such, this also eliminates the usual "countout" rule. As the match may take place in various parts of the arena. The "Falls Count Anywhere" provision is almost always accompanied with a "No Disqualification" stipulation to make the match a hardcore match, so as to allow wrestlers the convenience to use any objects they may find wherever they wrestle.
A variation of the rules state that once a pinfall takes place, the pinned wrestler will lose the match if he is unable to return to the ring within a specific amount of time — usually a referee's count of 10 or 30. If the pinned wrestler makes it to the ring in this time, the match continues. Under these rules, all pinfalls must take place outside of the ring, technically making the match no longer falls count anywhere. Occasionally, this stipulation is listed as having a specific territory in which falls count, (e.g. the state, county, or general location the match is in).
Community content is available under
CC-BY-SA
unless otherwise noted.