Nicholas Theodore "Nic" Nemeth (July 27, 1980) is an American professional wrestler. He is working for World Wrestling Entertainment (WWE) under the name Dolph Ziggler on the Raw brand. He is also known for his performances with WWE as Spirit Squad member Nicky in 2006.
Nemeth signed a development contract with WWE in 2004, and was sent to Ohio Valley Wrestling (OVW). He was brought up to the Raw brand in 2005 as Kerwin White's sidekick. He was, however, sent back to OVW shortly afterwards, where he joined the Spirit Squad. They debuted on Raw in January 2006, and won the World Tag Team Championship once before returning to OVW that November.
In September 2007, Nemeth was assigned to Florida Championship Wrestling (FCW), where he formed a tag team with Brad Allen. The pair won the FCW Florida Tag Team Championship once, and Nemeth later won the championship for the second time with Gavin Spears as his partner. He returned to Raw as Ziggler in September 2008, and was drafted to the SmackDown brand in April 2009. Template:Navbuttons
Amateur wrestling career
Nemeth attended St. Edward High School in Lakewood, Ohio where he was an amateur wrestler, and holds the school record for most pins in a career with 82. He wrestled collegiately at Kent State University, eventually setting what was then the record for most career wins in the team's history. Nemeth's record was passed in 2006, and as of 2010 he stands second all-time in career victories at Kent State. He had 121 career wins between 2000 and 2003. He was a three-time All-Mid-American Conference champion, winning the 165 lbs tournament in 2000, 2002, and 2003, and as of 2010 is the last wrestler from Kent State University to have won three amateur wrestling championships. During his time at St Edwards, the wrestling team won the National Championships on two occasions.
Professional wrestling career
Ohio Valley Wrestling and Raw (2004–2006)
Nemeth signed a contract with World Wrestling Entertainment (WWE) in 2004. He was assigned to their developmental territory Ohio Valley Wrestling (OVW), debuting as "Nick Nemeth". He feuded with Paul Burchill and challenged unsuccessfully for the OVW Television Championship, losing a championship match against then-champion Ken Doane on August 12, 2005.
Nemeth was called up to the Raw roster shortly afterwards, making his television debut on the September 19, 2005 episode of Sunday Night Heat. He was made the enforcer and sidekick for Chavo Guerrero, Jr., who was using a golfer in-ring persona and going by the ring name of "Kerwin White". As such, Nemeth became White's caddy. His wrestling debut came on an episode of Sunday Night Heat, teaming up with White in a tag team match against Shelton Benjamin and Matt Striker. After the death of Eddie Guerrero, Chavo Guerrero dropped the "Kerwin White" character, and Nemeth no longer played the role of his caddy and tag partner. After a few months of wrestling in dark matches and at house shows, he was sent back to OVW.
The Spirit Squad (2006)
Nemeth became a part of the Spirit Squad faction, a group of five wrestlers who used the in-ring personas of male cheerleaders, and adopted the name Nicky in OVW during late 2005. On January 23, 2006, they had their WWE television debut as a group, appearing on Raw and helping Jonathan Coachman win a Royal Rumble qualifying match against Jerry "The King" Lawler by performing cheers for Coachman and distracting Lawler. They later became a part of the on-going scripted feud between WWE chairman Vince McMahon and Shawn Michaels. The heel (villainous) McMahon brought in the Squad to attack Michaels on numerous occasions, including placing them in multiple handicap matches.
They also wrestled in the tag team division, and on April 3, on Raw, won the World Tag Team Championship when Kenny and Mikey, with outside help from the other three Squad members, defeated Kane and The Big Show. After winning the championship, all five members of the Spirit Squad were recognized as the champions, allowing any combination of them to defend the championship.
In May, McMahon signed another Handicap match, with the Spirit Squad facing Michaels. The match never started, however; instead the Spirit Squad attacked Michaels, and, as part of the storyline, shattered his knee with a steel chair. McMahon brought Triple H to the ring to attack Michaels with a sledgehammer; however, after Triple H felt that the Squad had disrespected him, he attacked the group. This led to Triple H and Michaels reforming D-Generation X (DX) and they began a feud with the Spirit Squad. DX played various sophomoric jokes on the Squad and the McMahons, as well as defeating the Spirit Squad in handicap tag team matches at Vengeance and a clean sweep in an elimination handicap match at Saturday Night's Main Event.
At the same time as their feud with DX and their alignment with McMahon, the Squad also wrestled other teams in Raw's tag division over their World Tag Team Championship, successfully defending the championship against the teams of Jim Duggan and Eugene, Charlie Haas and Viscera, and Snitsky and Val Venis. They then entered a lengthy feud with The Highlanders, whom they eventually defeated to retain the championship at the Unforgiven pay-per-view in September. The Squad as a whole later began a losing streak with separate members losing singles matches to Ric Flair on consecutive episodes of Raw, until Kenny managed to defeat him on the October 23 episode. It was then announced that Flair and a WWE legend, selected by interactive voting, would wrestle the team for the World Tag Team Championship at the Cyber Sunday pay-per-view in early November. The fans chose Roddy Piper, and he and Flair defeated Kenny and Mikey to win the championship.
The group disbanded on the November 27 episode of Raw, when they were defeated in a five-on-three handicap match by DX and Flair. In a backstage segment later that night, DX placed all members into a crate stamped "OVW, Louisville, Kentucky", a reference to the developmental territory from which the Squad had come.
Return to developmental (2007–2008)
Nemeth returned to OVW on January 17, 2007, at the television tapings, again using his Nick Nemeth ring name, along with Mike Mondo, formerly Mikey in the Spirit Squad, as the "Frat Pack". The pair teamed with Mike Kruel in a match against Seth Skyfire, Shawn Spears, and Cody Runnels. The team disbanded in the early parts of 2007. Nemeth then competed in several dark matches before the OVW television tapings, competing against wrestler including Chris Cage, Bradley Jay and Jake Hager, before he began teaming with Mondo again in August.
At the end of August, Nemeth and Mike Mondo were moved to the Florida Championship Wrestling (FCW) developmental territory and in his debut there, Nemeth gained the nickname "The Natural" and defeated Hade Vansen. In November 2007, Nemeth gained Big Rob as his manager, but their alliance was short-lived. At the start of 2008, he tweaked his name to "Nic Nemeth" and began teaming with Brad Allen, with the pair gaining Taryn Terrell as their valet. Nemeth and Allen started a frat boy type ring character with Terrell as a "sorority chick". On March 22, Nemeth and Allen won the FCW Florida Tag Team Championship by defeating defending champions Eddie Colón and Eric Pérez, but lost the championship back to Colón and Pérez on April 15. Throughout April and May 2008, Nemeth wrestled in several dark matches prior to Raw, losing to Kofi Kingston and Ron Killings on several occasions. Soon after, he returned to the name "Nic Nemeth", and began teaming with Gavin Spears. The pair defeated Colón and Pérez to win the FCW Florida Tag Team Championship on August 16, but lost it to Heath Miller and Joe Hennig less than a month later.
"Dolph Ziggler" and Intercontinental Champion (2008–present)
On September 15, 2008, Nemeth re-debuted on Raw, introducing himself in a backstage segment under the name "Dolph Ziggler" and with a new image. On October 10, 2008, Nemeth was suspended for 30 days for his first violation of WWE's Wellness Program policy. He returned to Raw on November 17 in a backstage segment with Rey Mysterio and Shawn Michaels. In his first match on Raw under the Ziggler name, he lost to Batista on the December 1 episode. The following week he got his first victory as Ziggler, by countout, against R-Truth. The next week on Raw, he picked up his first televised pinfall victory, when he defeated Charlie Haas.
On April 15, 2009, Ziggler was drafted to the SmackDown brand as part of the 2009 Supplemental Draft. He made his debut on the April 17 episode of SmackDown, defeating the United States Champion, Montel Vontavious Porter (MVP) in a non-title match, and, as a result, the following week he demanded a match for the championship. On the May 1 episode of SmackDown, however, he failed to win the championship, after he was pinned by MVP. Ziggler then started a rivalry with The Great Khali, losing to him by disqualification after attacking Khali with a steel chair. As a result, Khali began coming out to the ring during and after Ziggler's matches, in attempt to gain revenge and to stop Ziggler from cheating. Over the next few weeks, Ziggler defeated Khali by countout and disqualification after making it look like Khali had struck him with a steel chair. At The Bash pay-per-view, Ziggler defeated Khali by pinfall, after Kane interfered and attacked Khali.
Ziggler then entered an on-screen relationship with WWE Diva Maria and she became his valet. He simultaneously started a scripted rivalry with Intercontinental Champion Rey Mysterio, who defeated Ziggler at the Night of Champions and SummerSlam pay-per-views to retain the championship. In September, Mysterio lost the Intercontinental Championship to John Morrison, and Ziggler entered a feud with Morrison, losing to him at the Hell in a Cell pay-per-view. On the episode of SmackDown, following Hell in a Cell, Ziggler ended his on-screen relationship with Maria after she cost him a match against Morrison. On the February 26, 2010 episode of SmackDown, Ziggler defeated John Morrison and R-Truth in a triple threat qualifying match to compete in the Money in the Bank ladder match at WrestleMania XXVI, but was ultimately unsuccessful.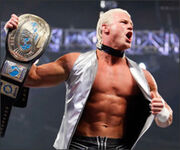 In June he began a romantic storyline with
Vickie Guerrero
, who began accompanying him to the ring. On the July 9 episode of
SmackDown
, Ziggler defeated
Chavo Guerrero
and
Montel Vontavious Porter
in a triple threat match to qualify for the SmackDown Money in the Bank ladder match at the
Money in the Bank
pay-per-view, where he once again failed to win the match. On July 28 at the tapings of the August 6 edition of
SmackDown
Ziggler defeated Kofi Kingston to win the WWE Intercontinental Championship for the first time. In his first title defense at
SummerSlam
, he retained the championship against Kingston when the match ended in a no contest due to interference from
The Nexus
. Ziggler was able to make a successful title defense against Kingston at the
Night of Champions
pay-per-view, and against
Kaval
at
Survivor Series
.
In November 2010, Ziggler was announced as a Pro for the fourth season of NXT, with Jacob Novak as his Rookie. At Tables, Ladders & Chairs, Ziggler successfully retained the Intercontinental Championship in a three-way ladder match against Kingston and Jack Swagger. On the January 4, 2011 episode of NXT, Ziggler won a battle royal to earn the right to choose a new rookie, and chose Byron Saxton. His original rookie, Novak, was the first rookie eliminated later that night. At SmackDown tapings on January 4, Ziggler lost the Intercontinental Championship to Kingston after a five month reign. That same night, Ziggler won a four-way match against Cody Rhodes, Drew McIntyre, and The Big Show to become the number one contender to the World Heavyweight Championship.
On the March 7 episode of Raw, Ziggler was introduced as the newest member of the Raw roster, and defeated John Morrison in a singles match. Ziggler was accompanied by Guerrero, who had also been fired from SmackDown, but she was forced to earn her spot on the Raw roster. On the April 18 episode of Raw, Vickie introduced the "new and improved" Dolph Ziggler. Ziggler came out with his hair cut short and brown and went on to defeat Evan Bourne in a singles match.
Personal life
Nemeth has been a fan of professional wrestling since he was five years old, when he attended a wrestling event at the Richland Coliseum, and decided to become a professional wrestler at age twelve. Nemeth has a younger brother named Ryan, who is also a professional wrestler. Nemeth attended Kent State University, where he majored in political science with a pre-law minor. Prior to his WWE tryout, Nemeth was living in Phoenix, Arizona, and had applied to Arizona State University law school, where he was due to start his first semester. Nemeth is good friends with his former Spirit Squad teammates, particularly Michael Brendli, with whom he lived in Florida until 2008. Nemeth has since returned to residing in Phoenix.
Nemeth appeared on the November 3, 2009 episode of Deal or No Deal with Maria Kanellis and Eve Torres. He then appeared on Lopez Tonight on August 9, 2010.
In wrestling
Championships and accomplishments
See also
External links

WWE Roster

Raw
Akam • A.J. Styles • Akira Tozawa • Aleister Black • Andrade • Angelo Dawkins • Asuka • Becky Lynch • Big Show • Billie Kay • Bobby Lashley • Brock Lesnar • Buddy Murphy • Cedric Alexander • Charlotte Flair • Curt Hawkins • Drew McIntyre • Ethan Carter III • Eric Young • Erik • Erick Rowan • Humberto Carrillo • Ivar • Jason Jordan • Jey Uso • Jimmy Uso • Jinder Mahal • John Cena • Kairi Sane • Karl Anderson • Kevin Owens • Konnor • Liv Morgan • Luke Gallows • Mojo Rawley • Montez Ford • Naomi • Natalya • Nia Jax • No Way Jose • Peyton Royce • R-Truth • Randy Orton • Rey Mysterio • Rezar • Ricochet • Ronda Rousey • Ruby Riott • Rusev • Samoa Joe • Sarah Logan • Seth Rollins • Shelton Benjamin • Sin Cara • Stephanie McMahon • Titus O'Neil • Viktor • Zack Ryder • Zelina Vega
SmackDown
Alexa Bliss • Ali • Apollo Crews • Baron Corbin • Bayley • Big E • Bo Dallas • Braun Strowman • Bray Wyatt • Carmella • Cesaro • Chad Gable • Curtis Axel • Dana Brooke • Daniel Bryan • Dash Wilder • Dolph Ziggler • Drake Maverick • Drew Gulak • Elias • Ember Moon • Epico • Gran Metalik • Harper • Heath Slater • Jeff Hardy • Kalisto • Kofi Kingston • Lacey Evans • Lana • Lars Sullivan • Lince Dorado • Mandy Rose • Maryse • Matt Hardy • Mickie James • Nikki Cross • Otis • Paige • Primo • Robert Roode • Roman Reigns • Sami Zayn • Samir Singh • Sasha Banks • Scott Dawson • Sheamus • Shinsuke Nakamura • Sonya Deville • Sunil Singh • Tamina • The Miz • Tucker • Xavier Woods •
NXT
Adam Cole • Aliyah • Babatunde Aiyegbusi • Bianca Belair • Bobby Fish • Cameron Grimes • Candice LeRae • Cezar Bononi • Danny Burch • Dakota Kai • Deonna Purrazzo • Dominik Dijakovic • Eric Bugenhagen • Fabian Aichner • Fandango • Finn Bálor • Io Shirai • Jessamyn Duke • Jaxson Ryker • Johnny Gargano • Kacy Catanzaro • Kassius Ohno • Kavita Devi • Keith Lee • Killian Dain • Kona Reeves • Kyle O'Reilly • KUSHIDA • Matt Riddle • Marina Shafir • Mia Yim • Oney Lorcan • Pete Dunne • Riddick Moss • Roderick Strong • Shane Thorne • Shayna Baszler • Steve Cutler • Taynara Conti • Tegan Nox • Tino Sabbatelli • Tommaso Ciampa • Trent Seven • Tyler Bate • Tyler Breeze • Vanessa Borne • Velveteen Dream • Wesley Blake • Xia Li
205 Cruiserweights
Ariya Daivari • Jack Gallagher • Lio Rush • Maria Kanellis • Mike Kanellis • Noam Dar • Oney Lorcan • The Brian Kendrick • Tony Nese
NXT UK
Alexander Wolfe • Amir Jordan • Ashton Smith • Dakota Kai • Dave Mastiff • Eddie Dennis • Fabian Aichner • Flash Morgan Webster • Isla Dawn • James Drake • Jinny • Joe Coffey • Joseph Conners • Jordan Devlin • Kay Lee Ray • Kenny Williams • Killer Kelly • Ligero • Marcel Barthel • Mark Andrews • Mark Coffey • Mike Hitchman • Nina Samuels • Noam Dar • Pete Dunne • Rhea Ripley • Sam Gradwell • Saxon Huxley • Toni Storm • Travis Banks • Trent Seven • Tyler Bate • Tyson T-Bone • WALTER • Wolfgang • Xia Brookside • Zack Gibson
Stables & Tag Teams
Authors of Pain • Breezango • Gallus • Heavy Machinery • Imperium • Lucha House Party • Moustache Mountain • Street Profits • The Ascension • The B-Team • The IIconics • The Kabuki Warriors • The New Day • The Revival • The Singh Brothers • The Usos • The Undisputed Era • The Viking Raiders
Commentators & Interviewers
Byron Saxton • Carlos Cabrera • Charly Caruso • Corey Graves • Cathy Kelley • Kayla Braxton • Marcelo Rodríguez • Mauro Ranallo • Michael Cole • Nigel McGuinness • Renee Young • Sarah Schreiber • Tom Phillips • Vic Joseph
Ring announcers
Referees
Chad Patton • Charles Robinson • Dan Engler • D.A. Brewer • Danilo Anfibio • Darrick Moore • Darryl Sharma • Drake Wuertz • Eddie Orengo • Jason Ayers • Jessika Carr • John Cone • Shawn Bennett • Mike Chioda • Rod Zapata • Ryan Tran
Pre-Show Panel
Booker T • David Otunga • Jonathan Coachman • Pete Rosenberg • Sam Roberts
NXT Trainers
Matthew Bloom • Norman Smiley • Robbie Brookside • Sara Del Rey • Sarah Stock • Serena Deeb • Shawn Michaels • Steve Keirn • Terry Taylor
General Managers
Drake Maverick (205 Live) • Shane McMahon (Smackdown) • Stephanie McMahon (Raw) • William Regal (NXT) • Johnny Saint (UK Brand)

Current Champions

WWE Championship
Brock Lesnar

WWE Universal Championship

Bray Wyatt
WWE Intercontinental Championship
Shinsuke Nakamura

WWE United States Championship

A.J. Styles
WWE Raw Tag Team Championship
The Viking Raiders (Ivar & Erik)
WWE SmackDown Tag Team Championship
The New Day (Big E & Kofi Kingston)
WWE Women's Tag Team Championship
The Kabuki Warriors (Asuka & Kairi Sane)
WWE Raw Women's Championship
Becky Lynch

WWE SmackDown Women's Championship

Bayley

WWE 24-7 Championship

Samir Singh

WWE NXT Championship

Adam Cole
NXT North American Championship
Roderick Strong

NXT Cruiserweight Championship

Lio Rush
NXT Tag Team Championship
The Undisputed Era (Bobby Fish & Kyle O'Reilly)

NXT Women's Championship

Shayna Baszler

WWE United Kingdom Championship

WALTER

WWE United Kingdom Women's Championship

Kay Lee Ray
WWE United Kingdom Tag Team Championship
Wolfgang & Mark Coffey
Community content is available under
CC-BY-SA
unless otherwise noted.