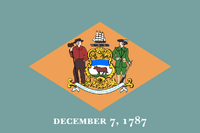 Delaware is a U.S. state located on the Atlantic Coast in the Mid-Atlantic region of the United States. It is bordered to the south and west by Maryland, to the east by New Jersey and to the north by Pennsylvania. The state takes its name from Thomas West, 3rd Baron De La Warr, an English nobleman and Virginia's first colonial governor, after whom what is now called Cape Henlopen was originally named.
Delaware is located in the northeastern portion of the Delmarva Peninsula and is the second smallest state in area (after Rhode Island). Estimates in 2007 rank the population of Delaware as 45th in the nation, but 6th in population density, with more than 60% of the population in New Castle County. Delaware is divided into three counties. From north to south, these three counties are New Castle, Kent, and Sussex. While the southern two counties have historically been predominantly agricultural, New Castle County has been more industrialized.
Arenas
Cities
Events
Promotions
Wrestlers
External Links
Community content is available under
CC-BY-SA
unless otherwise noted.