Deep South Wrestling (DSW) was a professional wrestling promotion based out of McDonough, Georgia. Deep South worked in tandem with World Wrestling Entertainment (WWE) as a developmental territory from 2005 until April 18, 2007. Deep South was owned by Jody Hamilton, former director of the WCW Power Plant.
History
DSW held their inaugural show on September 1, 2005, and on December 1 of that year, the promotion crowned Mike Mizanin as their first Deep South Heavyweight Champion.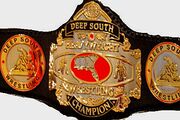 On March 4, 2006, rumors circulated that WWE was going to close DSW because it was not very popular. However Deep South still remains open and has secured a timeslot on Comcast Sports South on Sunday nights at 11:30 p.m. Deep South is also going to book events at Six Flags Over Georgia in Austell, Georgia starting June 9. This is similar to OVW's events at Six Flags Kentucky Kingdom in Louisville, Kentucky. It was announced at the July 6, 2006 taping that Deep South Wrestling would begin performing live shows at venues other than Six Flags, starting in the nearby town of Griffin, Georgia.
On May 18, 2006, High Impact won a tournament to crown the first Deep South Tag Team Champions.
On October 18, 2006, it was announced that DSW had landed a television deal with MavTV.
On April 18, 2007, WWE announced that they were ending its relationship with Deep South. Deep South confirmed the cancellation of their April 19, 2007 television taping on their website. The closure of the promotion was announced on Deep South's website on April 19, although Deep South held its final event on April 12. Because of Deep South parting ways, talent not under WWE developmental contracts left the promotion. Those that remained under contract were reassigned to Ohio Valley Wrestling.
On April 30, 2009, it was announced to the wrestling media that Hamilton, under the DSW banner, had filed a lawsuit against WWE. The suit claims WWE committed breach of contract and intentional interference with contractual and business relations.
Championships
See also
External links