The DDT Iron Man Heavymetalweight Championship is a comedy title created by the Japanese wrestling federation, Dramatic Dream Team. The Ironman Heavymetalweight Championship is defended anywhere against anyone, even during non-title matches or tag team matches, under the same 24/7 rules that applied to the WWF Hardcore Championship (if there is an official DDT referee present, the title can be won and lost).
The title is treated as a joke championship and as such wrestlers have won or lost the belt via games of Rock, Paper, Scissors and the championship was won by a fan during an auction. Notable champions have included a dog and a ladder.
The championship is regularly fought for in 10-minute battle royals, during which the title can change hands a number of times and the person who has the belt when the time limit expires can leave as champion. This is ironic as under the 24/7 rules the champion could be defeated for the belt immediately after the match finishes.
Current champion
The current champion is Puma King. He became champion at DDT Osaka Octopus 2019 on September 1, 2019.
Former Champions
To date, there have been over 1,400 title changes for the belt, which has been won by numerous female wrestlers and non-wrestlers, including children, animals and inanimate objects.
Current Wrestlers
Animals
Yatchan - A monkey
Cocolo - A miniature Dachshund dog
Inanimate objects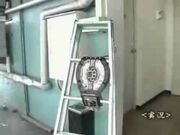 Kitty-Chan - a stuffed 'Hello Kitty' doll
Mah-Kun - another stuffed doll, who defeated 'Kitty-Chan' for the belt
A baseball bat - lost the belt after being broken in half as a 'KO' decision
Three different ladders - each fell on the champion and a pinfall was counted, with some successfully defending the title by not being pinned during the time limit battle royal matches.
Chiririn - a chicken doll
Mr. Kasai - a stuffed Jun Kasai doll. Mr. Kasai has won the belt twice.
A Pro Wrestling WAVE poster.
YOSHIHIKO - An inflatable 'love doll'.
Non-existent
Misutero - An "invisible wrestler" i.e. non-existent. Opponents sell moves of a wrestler who isn't there, and the title is held by nothing and no-one but the wrestlers and referees act as if they can see and pin the "invisible wrestler". Muscle Sakai "won" the title from this "invisible wrestler" by using a "ray gun" and "infrared visor" to shoot the "invisible wrestler", winning the belt on a KO decision.
External links
Community content is available under
CC-BY-SA
unless otherwise noted.