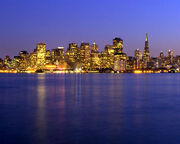 California is a state located on the West Coast of the United States. It is by far the most populous U.S. state, and the third-largest by land area (after Alaska and Texas). It is home to the nation's second- and sixth-largest census statistical areas (Los Angeles Metropolitan Area and San Francisco Bay Area), and eight of the nation's fifty most populated cities (Los Angeles, San Diego, San Jose, San Francisco, Fresno, Sacramento, Long Beach and Oakland). The capital city is Sacramento.
California's diverse geography ranges from the Pacific Coast in the west, to the Sierra Nevada mountains in the east—from the Redwood–Douglas-fir forests of the northwest, to the Mojave Desert areas in the southeast. The center of the state is dominated by Central Valley, a major agricultural area. California contains both the highest and lowest points in the contiguous United States (Mount Whitney and Death Valley), and has the third-longest coastline of all states (after Alaska and Florida). Earthquakes are a common occurrence due to the state's location along the Pacific Ring of Fire: about 37,000 are recorded annually.
Cities
Arenas
Events
Promotions
Wrestlers
External links
Community content is available under
CC-BY-SA
unless otherwise noted.