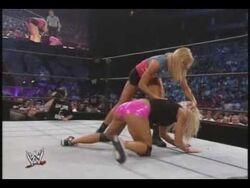 A Bra and Panties match is so named because it takes place between any amount of female competitors with the winner being the first to strip her opponent to nothing but her bra and panties. An Evening Gown match ends the same way, but instead of the women starting out the match in regular clothing or ring attire they begin in evening gowns. WCW held an "ROTC" match of the same nature, with the contestants beginning the match in camouflage military style attire. The title of the match was a play on the acronym for Reserve Officers' Training Corps and in the match stood for "Rip Off The Camouflage."
Xtreme Pro Wrestling went further with the idea; promoting a Buck Naked match, during which one competitor was supposed to be stripped completely. Only one such match ever took place, with the house lights being turned off before any actual nudity could be seen.
History of Bra and Panties match
No.
Match
Event, date and location
1
Major Gunns defeated Miss Hancock in a ROTC (Rip-off-the-Clothes match)
WCW New Blood Rising, August 13, 2000
2
Tygress defeated Torrie Wilson in a "Safari" ROTC (Rip-off-the Clothes match)
WCW Monday Nitro, October 9, 2000
3
Lita defeated Trish Stratus to retain the WWE Women's Championship
WWE Raw, October 23, 2000
4
Trish Stratus and Lita defeated Torrie Wilson and Stacy Keibler
WWF InVasion, July 22, 2001
5
Midajah defeated Queen Bea
World Wrestling All-Stars live event, April 7, 2002
6
Jasmin St. Claire and Miss Candie both were stripped in a competition
Pro-Pain Pro Wrestling, May 18, 2002, Philadelphia, Pennsylvania
7
Trish Stratus defeated Stacy Keibler in a Bra and Panties mud match
WWE Raw, August 19, 2002
8
Ms. Kritie defeated Gina Marie
Eastern Wrestling Alliance, June 15, 2002, Portland, Maine
9
Trish Stratus defeated Stacy Keibler in a "Paddle-on-a-Pole" Bra and Panties Match
WWE Raw, October 7, 2002
10
XTC NC defeated Tiffany
IPW Christmas Carnage TV Tapings, December 12, 2002
11
Dawn Marie defeated Gail Kim. Nidia served as a referee
WWE live event, January 4, 2003
12
Trish Stratus defeated Miss Jackie with Rico
WWE RAW, November 24, 2003
13
Amy Love defeated Shannon Rose
NWA Florida, May 1, 2004
14
April Hunter defeated Poppalishus
USA Pro Wrestling, November 19, 2004
15
April Hunter defeated Talia Madison but after was ruled a No-Contest due to the referee not signing a contract.
Pro-Pain Pro Wrestling, January 15, 2005
16
April Hunter defeated Simply Luscious, La Chachala, Diana La Cazadora, and Golden La Cazadora
CMLL, March 15, 2005, Monterrey, Mexico
17
Trish Stratus and Ashley Massaro defeated Torrie Wilson, Candice Michelle, and Victoria in a Handicap match
WWE RAW, October 3, 2005
18
Christy Hemme defeated Melina
WWE live events, November 5–7, 2005
19
Ashley Massaro defeated Maria Kanellis, Torrie Wilson, Victoria, and Candice Michelle in (11:01) in a Gauntlet Match
New Years Revolution 2006, January 8, 2006
20
Mickie James and Candice Michelle defeated Torrie Wilson and Maria Kanellis in a tag match
WWE Raw, June 19, 2006,
21
Ashley Massaro defeated Kristal Marshall, Jillian Hall, and Michelle McCool
The Great American Bash 2006, July 23, 2006,
22
Maria Kanellis defeated Torrie Wilson, Candice Michelle, and Victoria
WWE Raw, [[October 16]], 2006
23
ODB defeated Victoria Crawford, Melody, Beth Phoenix, Maryse, and Sosay in a Battle-Royal
?
24
Melina Perez defeated Candice Michelle
WWE Raw, March 19, 2007
25
Scott Raver defeated Chris Impact
Premier Championship Wrestling, November 15, 2007
26
Victoria Crawford defeated Nattie Neidhart
Florida Championship Wrestling, February 26, 2008
27
Terrible Tigra defeated Miss Peaches in a Humiliation Match(Bra and Panties Match)
ECW 1996
28
Trish Stratus defeated Stacy Keibler
WWE Raw November 22, 2001
29
Torrie Wilson defeated Stacy Keibler & Ivory 2 on 1
Raw House Show June 22, 2002. Hunington,WV.
30
Taylor Vaughn defeated Francine, Daffney, Mickie James, Elecktra, Erin Bray, Miss Joni, Sasha, Teresa Tyler in a Pajama Battle Royal.
TNA PPV June 26, 2002 Huntsville,AL.
31
Torrie Wilson defeated Stacy Keibler
Smackdown! July 4, 2002.
32
Torrie Wilson defeated Dawn Marie
Smackdown Live Event Newfoundland,Canada July 11, 2002.
33
Torrie Wilson defeated Stacy Keibler Ref Val Venis
WWE Global Warning Live Event/DVD August 10, 2002. Melbourne,Australia
34
Gail Kim defeated Dawn Marie
January 5, 2003 Smackdown! Live Event Fairbanks,AK.
35
Dawn Marie defeated Nidia
January 20, 2003 Smackdown! Live Event Poughkeepsie,NY.
36
Torrie Wilson defeated Dawn Marie
February 3, 2003 Smackdown! Live Event White Plains,NY.
37
Dawn Marie defeated Nidia
February 10, 2003 Smackdown! Live Event Davis,CA.
38
Torrie Wilson defeated Dawn Marie
Smackdown! Live Event February 15, 2003 Winnipeg,Manitoba.
39
Nidia & Dawn Marie defeated Torrie Wilson Smackdown!
Live Events February 27 & 28,2003 Cape Town & Durban, South Africa.
40
Torrie Wilson defeated Nidia Smackdown!
Live Events March March 15 & 16,2003 Miami & Tampa,FL.
41
Trish Stratus, Gail Kim, & Molly Holly defeated Christy Hemme 3 on 1.
WWE Raw

 September 27, 2004. Kansas City,MO. 

42
Trish Stratus

 defeated Victoria

Spike TV Video Game Awards December 4, 2004 Las Vegas,NV.
43
Candie

 defeated Tara

WEW PPV September 14, 2005. 
44
Trish Stratus & Mickie James defeated Candice Michelle & Victoria Tag Match&nbsp
Raw Live Chattanooga,TN & Waco,TX. March 4 & 11, 2006
45
Torrie Wilson & Maria defeated Candice Michelle & Victoria Tag Match
Raw Live Event March 19, 24, 25,26, & April 24 2006 Jackson,MS.,Rochester,MN,Spencer,IA., Sioux Falls,SD., & Cardiff,Wales.
46
Mickie James & Victoria defeated Maria & Beth Phoenix
Raw Live Events June 3 & 4, 2006 Bowling Green,KY & Evansville,IN.
47
Mickie James & Victoria defeated Torrie Wilson & Maria
Raw Live Event June 6, 2006 Toledo,OH.
48
Candice Michelle & Mickie James w/ Victoria defeated Torrie Wilson & Maria
Raw Live Events June 16,17, & 18, 2006. Hartford,CT,Kingston,RI, & Syracuse,NY.
50
Allison defeated Chelsia
Big Brother 9 Live Feeds March 4, 2008 Studiocity,CA.
51
Amanda defeated Victoria
YouTube July 6, 2008 Saratoga,NY.
52
Jessica vs Syndey No Contest
Myspace March 28, 2009
53
Alexis defeated Vixxxen
Kentucky Wrestling Federation April 6, 2009
54
Monica Massaro & Vinnie Massaro defeated Lizzy Valentine & Joey Ryan in a tag Match
XPW August 22, 2009 Los Angeles,CA.
55
Vixxxen defeated Ashlee Hope
Kentucky Wrestling Federation October 21, 2009
56
Cherry Malone vs Josh Powers ended in a no contest
NGW February 17, 2007
57
Lily Tootie defeated Lucy Tootie
January 24, 2010
58
Kaitlyn deafted Kelsey
February 2, 2010
59
Josie deafted Melody
Derby City Wrestling October 22, 2008
60
Beranda vs Krista ended in a Time Limit Draw
Daytona Beach,FL. February 28, 2010
61
Christopher Ryseck & Lylah Lodge defeated M J Aurora & The Freak.
DOA Pro Wrestling December 2009 Washington
62
Beranda defeated Krista
Daytona Beach,FL. March 4, 2010
63
Velvet Sky vs Angelina Love no contest in a Leathers & Lace Match
TNA Impact April 12, 2010 Orlando,FL.
64
Stacy The Heartbreaker defeated Brittney Johnson

NWA Main Event January 6, 2005 TN

65
Cleva Crawley b. Stacy Starr, April Showers, & Anita Dix
Superstars of Wrestling April 2004 Danville, IL
66
Betty Rage b. Gina Bo Bina & Laurali
UGWA September 19, 2010 San Jose,Ca
67
Nevaeh b. Ashley Lane
Ring Goddess 2008 Ohio
68
Jenna Jackson b. Miss Brittany

NWA Battlezone Magee, MS. June 25, 2011

69
Lady Luck (Jayme Jameson) b. Rebecca Reyes (Reby Sky)
(Lucha Libre USA: Masked Warriors) TV Taping August 27, 2011 Alburquerque, NM
70
Traci Brooks b. SoCal Val
PWF 5th Anniversary: Legends Wrestling Tour 2012 February 24, 2012 Neumunster, Germany
71
Jayme Jameson b. Reby Sky
NASW Wrestling March 31, 2012 Wentworth, NC.
72
Kasey Owens b. Leah Owens
Shropshire Wrestling Alliance: Hardcore Heaven April 1, 2012 Canongate, Telford, England
73
Torrie Wilson d. Melina
Candice Michelle special referee WWE Great American Bash July 24, 2005 Buffalo, New York
Other/Unsure
In Videogames
The Bra and Panties match has also been featured as a match type in several videogames. These games include:
WWE Smackdown! vs. Raw - Also includes a spanking mini-game. In bra and panties matchups, a female wrestler could enter a "spanking" mini-game. The meter mechanic from the chop battles are retained, but the player must perfectly time the button press three consecutive times to win. If the player does so, a cut scene of the two female wrestlers kissing is played.
Wrestlemania 21 xbox
External links
Community content is available under
CC-BY-SA
unless otherwise noted.