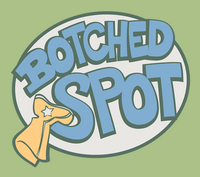 Botched Spot is a wrestling webcomic.
Description
Since 2008 Botched Spot has been parodying, satirizing, and lampooning (whatever I can use to try and get sued the least) professional wrestling culture, be it televised products, internet followings, or live shows. Botched Spot is a political cartoon for dirt sheets, making fun of WWE, TNA, and any other wrestling organizations or personalities I can think of a joke for. The early adventures of my own original characters, Olav Orlav and Rad Bad DeBone, are also found here. Botched Spot updates Monday, Wednesday, and Friday.
External links
Community content is available under
CC-BY-SA
unless otherwise noted.