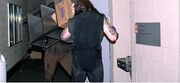 The Boiler Room Brawl is a street fight-type hardcore match that takes place in an arena's boiler room full of concrete floors and solid mechanical infrastructure such as extensive steel piping, transformer boxes and power grids, among other solid electrical equipment, and was a specialty match of Mick Foley's Mankind persona, who often dwelled in boiler rooms. The objective of this match is to escape the boiler room first, and any weapons found in the room can be used, and there are no falls, no disqualifications and no countouts in this match, and there are effectively no rules in this match other than escaping the boiler room first. The first Boiler Room Brawl between Mankind and the Undertaker was to escape the boiler room first and retrieve the Urn from Paul Bearer, but when it was brought back in 1999 the objective was simplified to just escape the boiler room first. During Jerry Flynn's stint in World Championship Wrestling, this match was known as "The Block".
The Boiler Room Brawl is non-existent in today's WWE, the last match having taken place in December 1999. However, prior to the "Attitude" era, which introduced many more ringside weapons into matches, the Boiler Room Brawl was used as a way to get such items as ladders and steel pipes into matches.
History of the Boiler Room Brawl match
| No. | Match | Event, date and location |
| --- | --- | --- |
| I | Mankind defeated The Undertaker | SummerSlam 1996, August 17, 1996, Cleveland, Ohio |
| II | Mankind defeated The Big Show | In Your House 28: Backlash, April 25, 1999, Providence, Rhode Island |
| III | Triple H defeated Mankind | WWE Friday Night SmackDown!, September 23, 1999 |
| IV | Jerry Flynn defeated The Barbarian | WCW Monday Nitro, November 15, 1999, Little Rock, Arkansas |
| V | Jerry Flynn vs. The Wall ended in a No-Contest when Berlyn interfered | WCW Monday Nitro, November 29, 1999, Denver, Colorado |
| VI | Triple H as "Santa Claus" defeated Mankind after interference from The Mean Street Posse and The New Age Outlaws who were all dressed as Santa | WWE Raw, December 20, 1999, Houston, Texas |
Trivia
External Links
Community content is available under
CC-BY-SA
unless otherwise noted.