Anarchy Wrestling, formerly NWA Anarchy Wrestling, was an American independent promotion based in Cornelia, Georgia and promoting events throughout North Georgia. The company was owned by local fire-firefighter turned wrestling promoter Jerry Palmer. However, in 2011 it was purchased by Franklin Dove.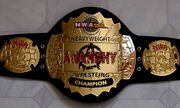 History
NWA Anarchy Wrestling was started when its predecessor NWA Wildside closed on April 30, 2005 as a result of then owner Bill Behrens employment with World Wrestling Entertainment's developmental program Deep South Wrestling. Anarchy held its inaugural event on May 21, 2005 at the NWA Television Arena in Cornelia, GA.
While NWA Wildside was very popular with the internet wrestling community for its fast-paced in ring product, NWA Anarchy appealed to its local audience providing a southern flavored product that didn't shy away on action, but was driven more by the oratory skills of the talent roster.
To quote wrestling journalist Larry Goodman from Wrestling Informer Weekly
"The mic work is beginning to distinguish NWA Anarchy Wrestling from its predecessor, NWA Wildside. In its day, Wildside had some hellacious talkers, most notably Jeff G. Bailey. But they didn't spread it around much, and the shows often lacked for top-of-the-card babyface performers with strong mic skills. By way of contrast, Anarchy has strong talkers up and down the card, and this show highlighted that strength as much as any."
In September 2005, after a falling out with World Wrestling Entertainment, former Wildside owner Bill Behrens joined NWA Anarchy Wrestling as Executive Producer. As a result, effective January 2006, NWA Anarchy Wrestling inherited the NWA Wildside TV syndication network and began broadcasting their weekly television program across the U.S., United Kingdom and Italy, as well as weekly on the internet at www.thesuperstation.tv.
On May 14, 2011, Former Owner Jerry Palmer passed the torch to new Owner Franklin Dove. JT Talent was the General Manager.
On December 27, 2014 Franklin Dove announced that Anarchy Wrestling was sold to Southern Fried Championship Wrestling owner Charles Anschutz. Anschutz stated that the two promotions would be run as separate entities.
In 2015 the promotion dissolved and the Why We Wrestle promotion took it's place.
Championships
See also
External links
Community content is available under
CC-BY-SA
unless otherwise noted.